Want to Save Thousands on Your CSST? Here's How!
29,000 Québec SME's use a Safety Group (« Mutuelle de prévention ») to reduce their CSST premiums. This helps them gain a competitive advantage over their competitors. The CSST, with an average rate of 5% of salaries in 2020, is an important operating cost in the landscaping industry. It is often a determining factor in calls for tenders.
Here's the catch. Most employers think they are "covered" just by being in a Safety Group. However, without knowing it, they are leaving a lot of money on the table…
Says Who?
Jacques Archambault.
Archambault is a labour lawyer who began specializing in CSST finance matters 37 years ago. He represented all of Quebec's employers in the creation of the CSST's Assessment Rating Plans. He is the one who requested that well-performing SMEs be allowed to group together to obtain better CSST premium reductions.  In other words, Safety Groups were his idea!
Archambault does not run or service any Safety Groups. He remains neutral and advises employers exclusively. He grew tired of seeing so many well-performing employers being taken advantage of by less efficient Safety Groups using them to improve their otherwise poor average. Archambault knew these employers could get much better premium reductions. All they needed was someone to direct them to the better Safety Groups to which they could be eligible.
Seeing the need, Archambault created precisely such a service and the initial evaluation is free.
Why am I not Already Getting the Best Deal?
There are 105 Safety Groups in Quebec. However, no employer has the time, resources or technical skills to compare them in order to find the best one.
Employers usually rely on a salesperson or an Employer Association to refer them to one or two Safety Groups. This is usually in exchange for a commission. Some wiser employers get a few bids for comparison, but at most from only 3 or 4 competing vendors. Remember, there are more than 105 Safety Groups operating in the Quebec market! This is where your opportunity for savings lies.
Have you ever had your eligibility checked for the entire Quebec market? If you are already in a Safety Group, your OHS experience profile has probably already improved since the last evaluation of your eligibility by your current provider.  However, you will rarely see a Safety Group provider direct his high-performing members to a better-performing competitor…
This is why an independent review of your position in this complex market is an essential exercise for any business wanting to improve profitability, especially if it's free!
How Much Money can I Save?
Here's a real example, where Archambault's free comparative review revealed savings of more than $100,000 for his mid-sized clients.
The table below shows, in 4 steps, the savings that a company's current Safety Group provides. The table also shows the savings that better Safety Groups to which the company is eligible can provide.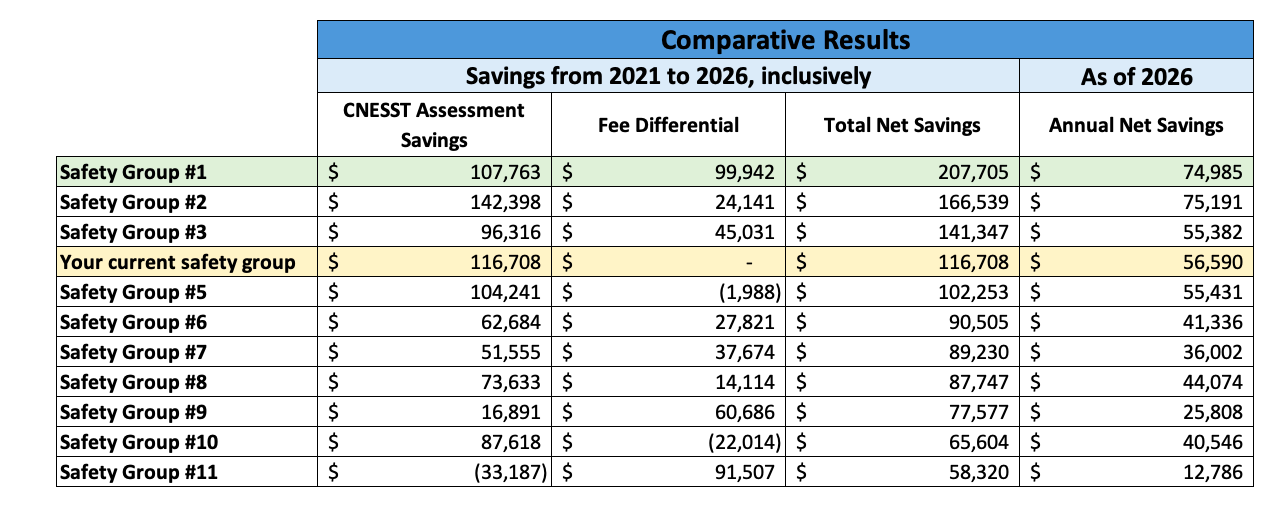 The 1st column shows the savings in CSST premiums generated by Groups 1 to 11. This includes the company's current Group (in yellow) and the best group (in green)
The 2nd column shows the difference between the fees charged by the company's current Group and those of the other groups
The 3rd column shows the Total Net Savings, after payment of fees, gradually generated by each Group over the first 6 years (Gain of $91 000 with Group #1)
The 4th column shows the annual savings available after 6 years of participation (Gain of $18,400 per year  with Group #1)
As you can see, this company has a lot to gain by switching to the Safety Group #1. This is something they could not have deduced without an independent audit.
How can I get a Free Assessment?
For a FREE comparative review or more information from Archambault Consulting Group (who has recently joined forces with CNESST specialists at ACT actuaries), you can either:
NOTE: it is important to act before the automatic renewal of your current Safety Group contracts on June 30. After this date, non-renewal penalties will apply.
To find out more about thought leaders in the industry, you can read more of our articles on top 5 tips for efficient landscaping takeoffs by Takeoff Monkey's CEO and on how outsourcing landscape design to Tilly improves efficiency.