Exclusive Interview: Cinderella Branding Story of Four Seasons Total Landscaping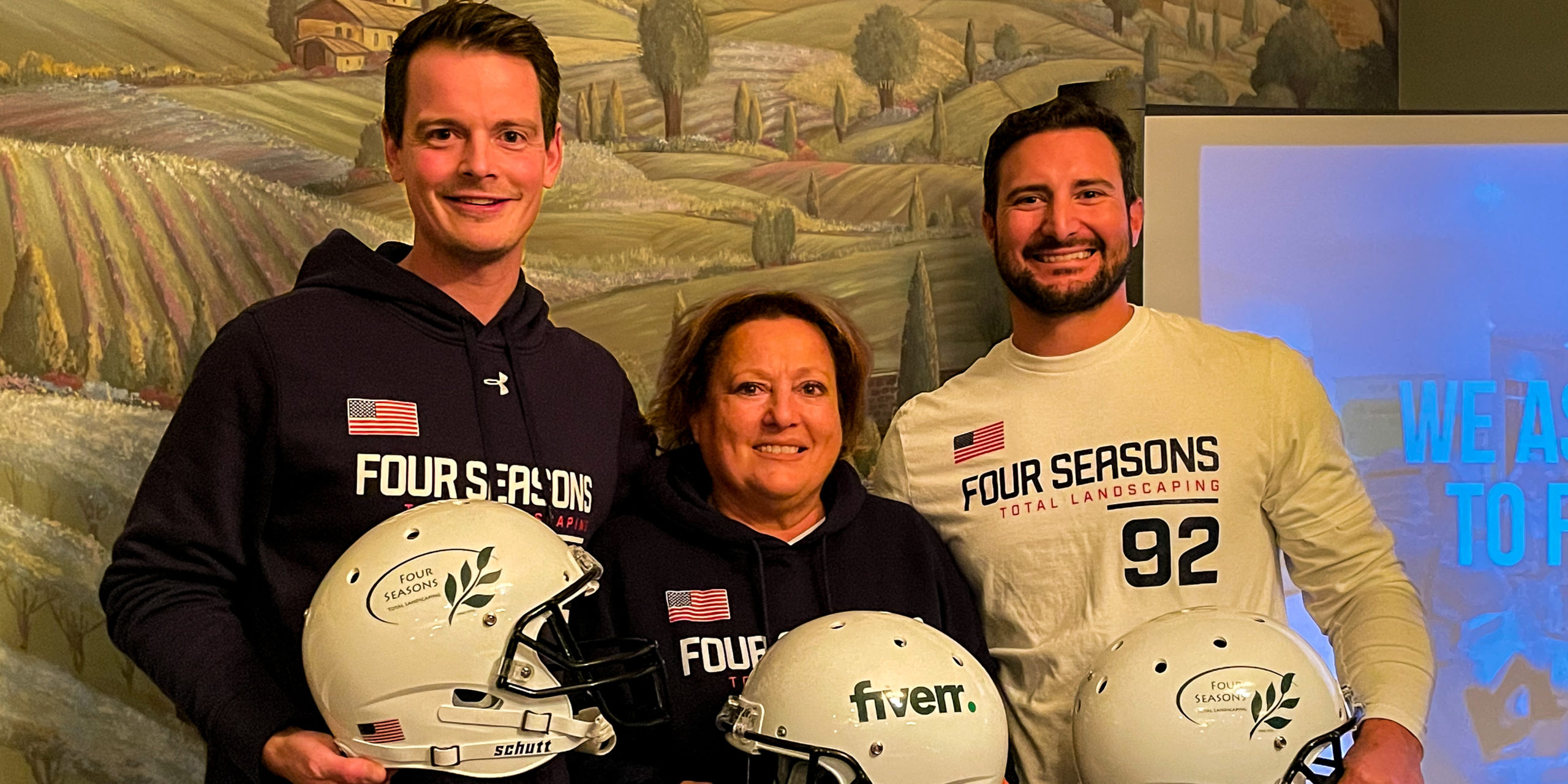 Four Seasons Total Landscaping is the landscape industry's Cinderella story. This Philadelphia landscaping business was the setting for the November 7 Trump campaign press conference. The whole world was following any and all election coverage and the unconventional venue caught everyone's attention amid the election circus. 
For Four Seasons Total Landscaping, the immediate aftermath of newfound fame came in the form of increased searches, visitors, and merchandise sales. How the landscaping company sustained media attention and used it to their benefit is the real story worth exploring. GoMaterials caught up with the team behind Four Seasons Total Landscaping to bring you exclusive marketing and branding insights from the saga. 
Speed and Fine-tuning Online Presence  
When Four Seasons Total Landscaping reached the top of the news cycle, people wanted to know who this company was and what they were about. Within weeks, they grew to over 18,000 followers on Twitter, 26,000 on Instagram, and 36,000 on Facebook. Their secret? Identifying the opportunity and moving fast on it. Sean Middleton, Director of Sales for Four Seasons Total Landscaping explained their decision-making in the crucial moments right after the conference. 

"As you know the event, from inception to the end, was planned in just three and a half hours. We knew there was an opportunity right after the event, but we took about half a day to flesh it out. There was a lot of pressure to get it right because we knew it could be either awesome or not at all. It's a fantastic thing we were able to achieve, and it all came out of just spotting the opportunity and not being afraid to run with it."
– Sean Middleton, Director of Sales, Four Seasons Total Landscaping. 
Marketing Tip: For our landscape industry marketers, this reinforces the importance of having an online presence. Imagine if Four Seasons Total Landscaping didn't have a website, or social media presence prior to the event – all this online traction would have led nowhere! If it's not done already, fine-tune your online presence to make the most of unexpected opportunities. Make sure your business services and contact information are accurate and easily accessible. 
Reinforcing Brand Recall Through Merchandising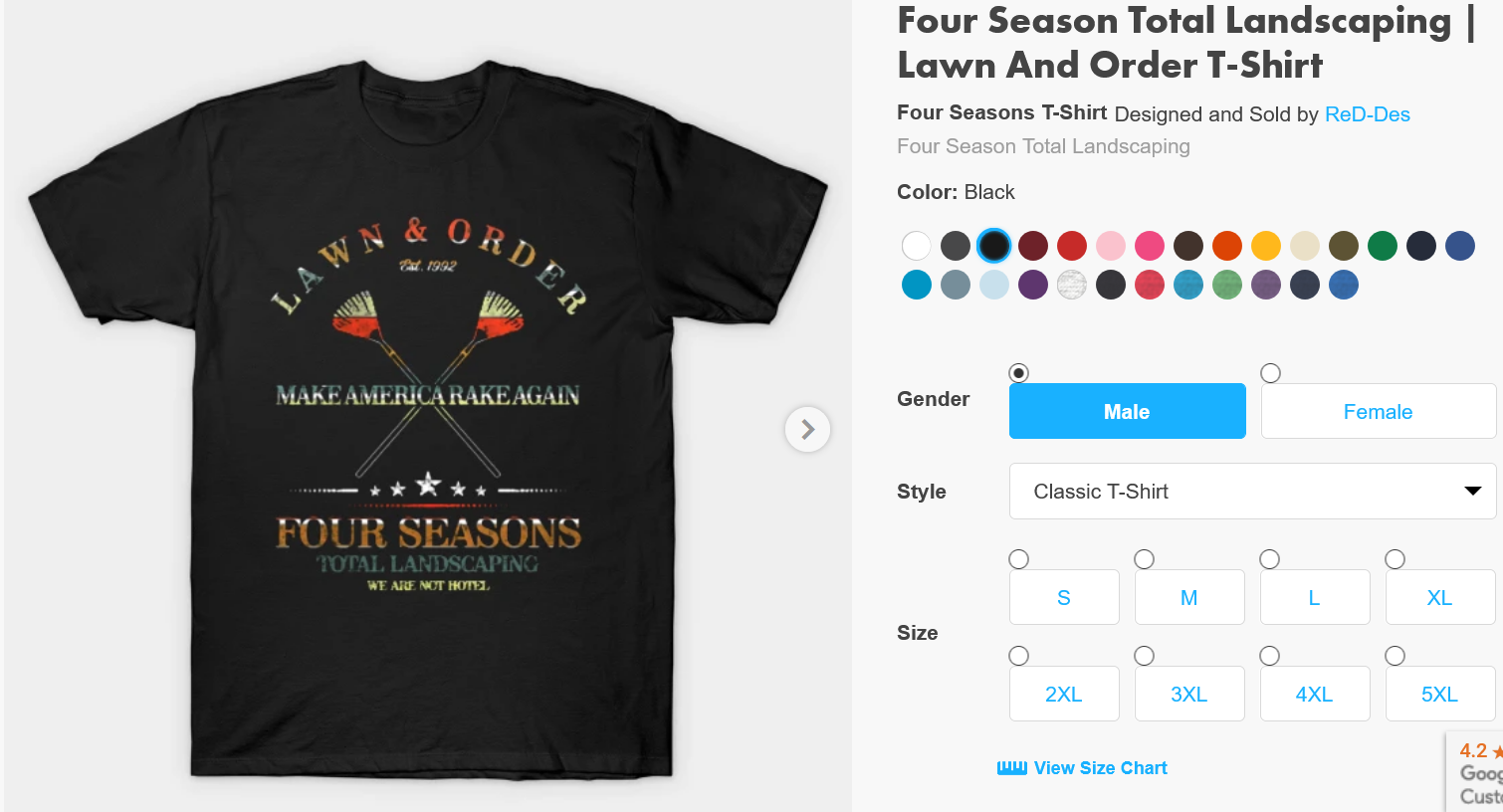 Within minutes from the conference, it was evident that this event would go down in the history books. What better thing to do than to give people a piece of history to take home! First came the press conference Saturday morning. Then on Saturday night, the Four Seasons leadership team found themselves brainstorming how they could take advantage of the attention they were getting. By Sunday morning, they had merchandise up and selling on their website. 

"Immediately after the event, I called our IT guy and had him set up our T-shirts because people were thinking it was 'I-gotta-have-this-on-t-shirt' funny. Our first move was to get up some merchandise, regardless of people's intention to buy it."
– Sean Middleton 
A room in their office has since become the merchandise fulfillment center. To date, they've sold over 35,000 orders for shirts, sweaters, masks, and stickers bearing the company logo or landscaping taglines. 
Every time you see anyone wearing one of their t-shirts, it reinforces the memory of the event and helps Four Seasons Total Landscaping strengthen their brand. 
Marketing Tip: This is the perfect example of taking calculated business risks and not being afraid to pivot. Four Seasons Total Landscaping saw an opportunity and didn't hesitate to try something new (even though it wasn't in their core business offering).
Owning Up with Humor to Build Positive Sentiment  
One drawback of sudden fame can be the backlash that often goes with it. Four Seasons Total Landscaping landed on a possible political minefield in the aftermath of the conference. However, their careful strategy of owning up their role in this surreal event, and clarifying their non-political stance helped them not only stay out of trouble but build positive sentiment around their brand. 
If you visit the company's social media pages, their character shines through. Cheeky taglines like "Make America Rake Again" and "Make American Lawns Great Again" are front and center. Memes are genuinely funny, and the humor is bipartisan.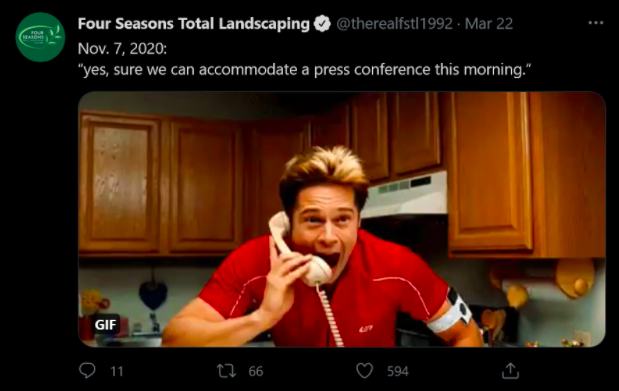 "It doesn't take a marketing genius to figure out that you want to come out somewhere in the middle of the deeply polarized political divide. Which is truly where we are as a brand. We were never trying to make a political statement. 
The whole time the idea was that we wanted to retain this attention. Mike (Michael Siravo, Operations Manager for Four Seasons Total Landscaping) and I, consider ourselves to be funny guys, and now we had this platform on social media.
So we started making jokes and memes to support our merchandise. 
By Sunday, people realized that we were in on the joke, and the situation evolved from negative to positive."

-Sean Middleton 
Marketing Tip: Show your brand personality! This can be done through your website, social media and interactions with your customers and community. As a general rule, people like to do business with companies and people they like. Don't be afraid to "humanize" your brand.
Giving Back to the Community 
Using fame to benefit the community is a great way to maintain brand momentum. Although, community participation is a full-time pursuit. One interesting example is their collaboration with a local hospital for a 'Toys for Tots drive'. As it stands, their office has been swarmed by curious onlookers and tourists since the press conference. They offered stickers in exchange for every toy that was dropped off to be given to the toy drive. 

"What's great is that we were already doing a lot of the work like supporting charities. And it reflected in our social media before we had thousands and thousands of followers. Who we are personally, and who we are in the business, played really well in the public spotlight. 
If we weren't good people, doing right things, we would have been cancelled out pretty quickly."
-Sean Middleton 
Marketing Tip: If you have not done it already, this is a good opportunity to ask yourself what steps your business has taken to make your mark on your community. Seek out ways to help during your business' off-season when you have a moment to spare. This could in turn generate newsworthy PR mentions for your company, creating a loop of social good and brand exposure.
Prioritize the Right Opportunities 
The original televised appearance was the November press conference. Three months later, in February, Four Seasons Total Landscaping starred in a commercial during the Superbowl. Fiverr, a digital marketplace for freelancers, approached them to make the most of their trendiness. Next up for the now-famous landscaping business is a documentary titled 'Four Seasons Total Documentary'. From our interactions with their team, we learned that all of these opportunities were carefully filtered to avoid any unintentional political backlash. There seems to be a definite idea behind the ones that made the list. 

"We were getting a lot of calls to speak with our owner Marie, and it was overwhelming for everybody. So, we started filtering out opportunities, to focus ones that were harmless ways to keep the momentum going."
-Sean Middleton 
Final Words – Build a Great Marketing and Sales Team
To sum up the Four Seasons Total Landscaping's Cinderella story: right people, right place at the right time. It goes without saying that sustaining the world's attention is entirely attributable to the hard work and fast maneuvers of their marketing and sales team. Even though they didn't hire a professional marketing or PR team, they struck a perfect balance between poking fun at themselves without becoming overly cheesy. You have to know your brand to sell it, and their team sold us a sincere, approachable small business in America. 

"I love the fact that people think we hired a social media team, but the reality is that it's all internally managed!"
– Sean Middleton  
Marketing Tip: It's important to remember that you don't always need a crazy media storm to catapult your landscaping brand. Just apply the same techniques as Four Seasons Total Landscaping to market yourself within your community. Clean up your online presence, take calculated risks, and get to know your locals, to script your own Cinderella branding story.  
*** 
Liked this article? Share it with your connections on social media! You might also like our article on how to build your brand to win more landscaping bids.