Four Key Landscaping Industry Statistics from 2022 Report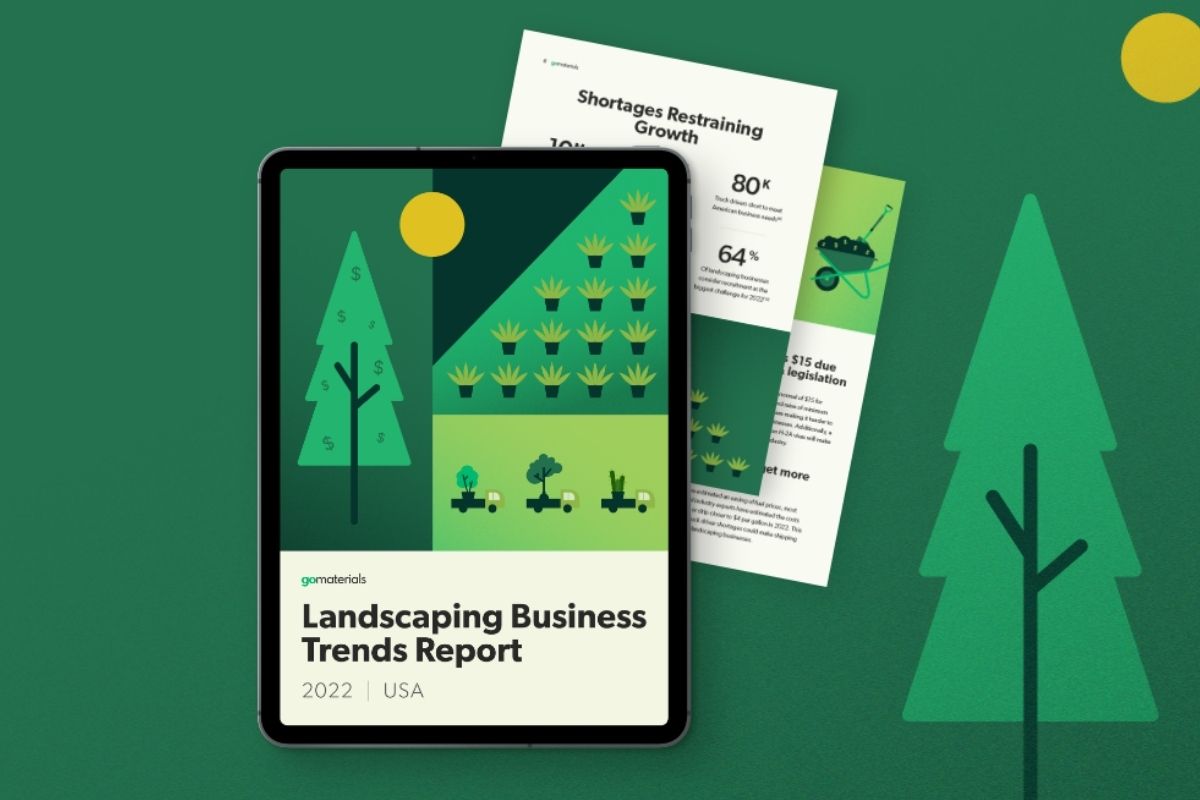 GoMaterials' 2022 Landscaping Business Trends Report highlights vital information for the coming year. Landscaping demand continues to spur the industry, but that's only a fraction of the picture. Our new report aims to share insights on opportunities and challenges ahead so that we can be prepared to overcome them together as an industry. Here are four key landscaping industry statistics from the trends report that could have an impact on your business in the year ahead.
Key Landscaping Industry Statistic About Demand – $490 Million Dollar Federal Investment

Landscaping demand in the US will rise thanks to multiple underlying factors. Notably, the Infrastructure Investment and Jobs Act (IIJA) is allocating $490 million to support natural infrastructure resilience and urban forests in 2022.
IIJA's Impact on Landscaping Demand
The goal of the IIJA is twofold. One of the most common ways for governments to stimulate the economy is through public works. If you thought your landscaping business was busy, it's about to get busier! Cities will look to hire local businesses to perform the necessary upgrades. Now is the time to familiarize yourself with the bidding process on public projects if you haven't already. While you're at it, it would be a great idea to take care of any other formalities concerning your eligibility for this type of landscaping work before the busy season.
IIJA's Impact on the Urban Canopy
The second objective of the IIJA is to increase urban canopies across the country. On a symbolic level, it emphasizes the government's recognition that plant life and forests are infrastructure in their own right and worthy of investment. For landscapers and wholesale nurseries, especially those that take up city contracts, it might be helpful to take stock of your inventory now to check your readiness. For wholesale nurseries, prioritizing native plants and trees now could help capitalize on the demand in the near future.
The federal funding through IIJA presents an opportunity for landscapers and nursery owners to work together to get a sense of what local clients are requesting. Better communication between nurseries, landscape architects, and landscape contractors is the need of the hour.
Landscaping Costs and the 12-14% Rise in Nursery Input Fees
Inflation has touched every sector, including wholesale plant nurseries. Nursery input costs are up by 12-14% over the pre-pandemic levels and are expected to stay high through 2022.
Input costs are made up of the cost of seeds, containers, soil, labor, anything that's required to grow the plants, down to the building's electricity. As landscaping supply chain shortages reduce the availability of basic equipment, the cost of said equipment increases. Wages have gone up to stay competitive
John Fracalossi from the Becker Tree farms eloquently explains the stress of heightened costs. "To sum it up, everything is more expensive from fertilizers, seeds, to even all the containers we purchase. The result is that it simply costs way too much to grow the same inventory as compared to a couple of years ago", he says.
Over 300,000 Multifamily Units Expected in 2022, Boosting the Demand for Landscaping
Disposable household income is rising alongside the number of families set to earn over $100,000 this year. CBRE real-estate outlook estimates over 300,000 multi-family units to be built in 2022, keeping cities alive and vibrant.
Apartment complexes don't necessarily reduce the residential landscaping demand. The opposite is increasingly true. Families are looking to build a life in the city. As such, urban zones will be reinvented to provide green spaces for their locals.
Multi-family residential projects are looking for smart landscaping options. For some, the answer is rooftop gardens. For others, expertly crafted courtyards turn a plain plot of land in the city center into an urban oasis.
Position your landscaping business to provide solutions for these residential projects! Which plants absorb air pollutants the best? Which trees or shrubs provide sound barriers? Perhaps your business might consider sourcing from a nursery that has the best evergreens to provide the residents with plants that are attractive year-long. If your landscaping business prepares itself with concepts for multi-family residential landscaping solutions, you'll be ahead of the game.
The Landscaping Labor Shortage and 10 million Vacant Positions Across the U.S.A.
Multiple reports suggest that there are about 10 million vacant jobs across the United States. This and other landscaping industry statistics include both low-wage and high-skilled opportunities. Here's a closer look at some of the many elements that contribute to the landscaping labor shortage:
A Pre-existing Labor Shortage
The industry has been dealing with a landscaping labor shortage for several years already. Local workers either don't apply for or stay at landscaping jobs in high enough numbers. Landscaping businesses often relied on immigrant workers to provide seasonal labor.
Pandemic-Induced Early Retirement
A significant portion of older workers opted for early retirement when the pandemic hit. Fear of the virus and temporary business closures pushed many workers to escape the rat race.
Reduced Labor Participation
This is also seemingly affected by the pandemic. Distancing mandates and high infection rates left many employees uneasy about returning to work. The labor participation rate has still not returned to its pre-pandemic numbers.
Truck Driver Shortage
The landscaping industry's most crucial partnerships are with the drivers that haul materials around. An existing industry shortage is exacerbated by vaccine mandates. The reality is that there are fewer truck drivers available.
The impact of the landscaping labor shortages and the truck driver shortages is critical for the landscaping industry. Landscaping projects will take longer to complete than before. Business may be booming, but you can't fulfill contracts without employees.
Despite its many challenges, 2022 promises to be a record year for the landscaping industry. However, the caveat is that your bottom line might suffer due to increased costs. The same work of previous years will now cost more. The good news is that there are multiple ways to overcome this challenge. You could always absorb the costs yourself, optimize material procurement with services like GoMaterials, or be more selective and pick projects that can be more profitable. Whichever path you choose, this is the perfect time to start planning for your year.
***
In your opinion, what are the most important trends of 2022? Let us know on social media!