An Overview of the GoMaterials Platform: Minimum Effort, Maximum Efficiency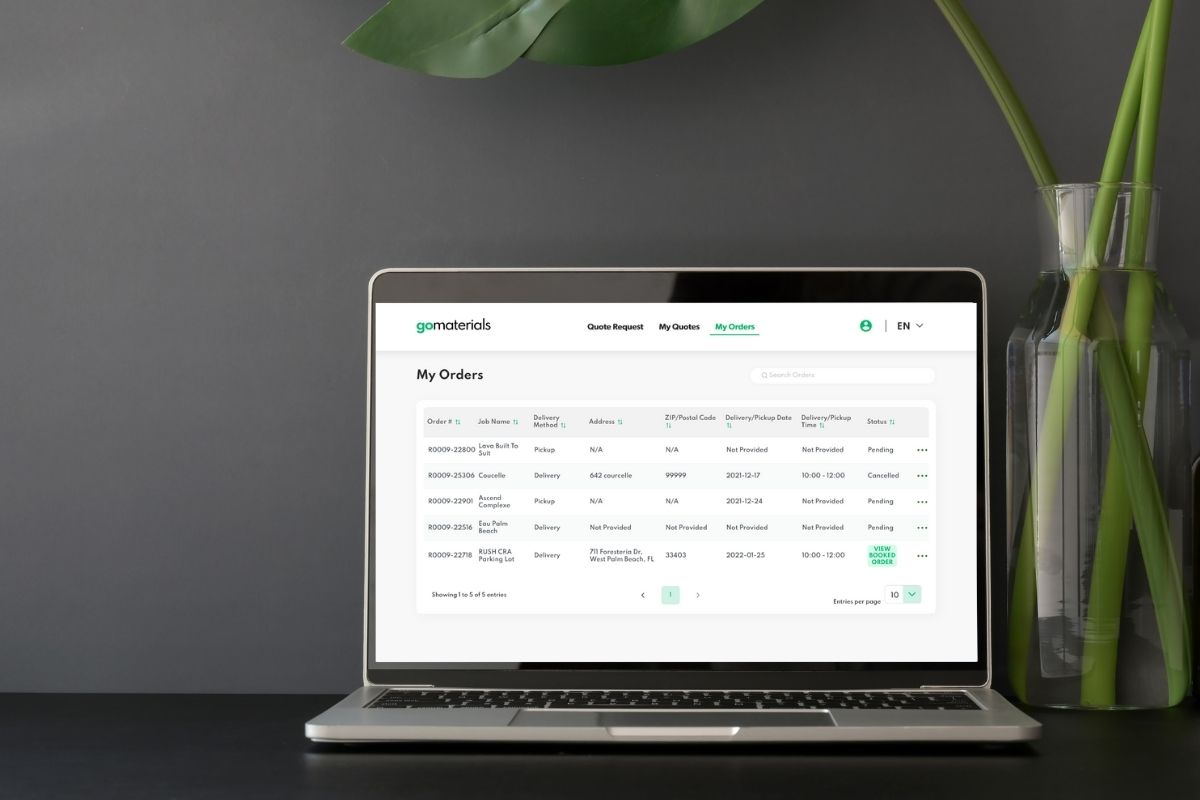 Ordering wholesale plants for landscaping jobs has always been inefficient, and time-consuming. Keeping track of crucial information such as recent versions of estimates and timelines can be challenging, especially during the peak season when you have multiple projects in progress. Lack of visibility on the status of a wholesale plant and tree order can be equally challenging for wholesale nurseries. Enter the GoMaterials platform! Since its launch, our unique platform has already helped improve tracking and communication for GoMaterials landscaping members and nursery partners.
The GoMaterials platform aims to boost the tracking and time-saving capabilities for all users. Another key objective is to centralize all GoMaterials quotes and orders in one place so that you don't have to search between your texts, emails, and calls. The latest version of the platform already offers these and other functionalities, developed based on the feedback collected from GoMaterials buyers and sellers. All GoMaterials members can use the new platform at no extra cost by signing up.
Here's a closer look at the top features, and how the platform can simplify sourcing for both landscape professionals as well as wholesale nurseries.
Overview of features for landscape professionals
The simplicity and "no-training-required" experience of the GoMaterials platform is what's most important for members. From sending a quote request to tracking orders, landscape professionals can easily track the entire process. Here's a peek into the latest features for landscape professionals.
Login and upload a plant list in seconds
Uploading a plant list is very easy in the platform as multiple file formats including, Word, Excel, PDF and image files are accepted. Users can also copy-paste their lists directly to submit a quote request.
View and track all quote requests and returned quotes in one place, export them easily
All the quote requests in progress can be accessed in one place, with their status visible so that you never lose sight of important deadlines. All the returned quotes can also be tracked in one place, ready to be exported in Excel to simplify integration with other systems.
Place orders directly from the accepted quotes
Landscape professionals can place orders in an instant, and track their progress until the delivery is complete under the 'my orders' tab.
Get email notification and ongoing support from our teams
All updates on your quotes and orders will be communicated via email so that you never miss important details. Our operations and sales teams are directly synced to the platform and ready to support you through the whole process!
Overview of features for wholesale nurseries  
The platform also helps wholesale nurseries improve tracking and communication and improve their business efficiency.
Email notification for new orders
The GoMaterials platform instantly pushes an email notification every time the nursery receives new confirmed orders.
View and track all orders in one place
All order information such as pickup date and time, items, size, specs, and quantity can be easily accessed and is stored in one place on the nursery's dashboard.
View and export orders details
Nursery managers can integrate with third-party software and systems with ease by exporting the order data in Microsoft Excel format.
Using the GoMaterials platform in 2022 and beyond
If you haven't used the platform in a while, simply signing in can automatically redirect you to the latest version. You can get in touch with your account representatives for specific questions regarding your quotes or order data.
If you have never used the platform before, now is the time to get started! A simple sign up is enough to get you started on the platform.
Going in to 2022 more exciting features are in store for both landscaping professionals and nurseries based on the feedback of current users of the GoMaterials platform. Our team is committed to working towards a more intuitive and simplified experience for the platform, and we are excited to see what's coming up next!
***
Get in touch here for any questions about the platform or to participate in a user feedback session.