Winners of the 2022 Landscaping Awards to Inspire You This Coming Year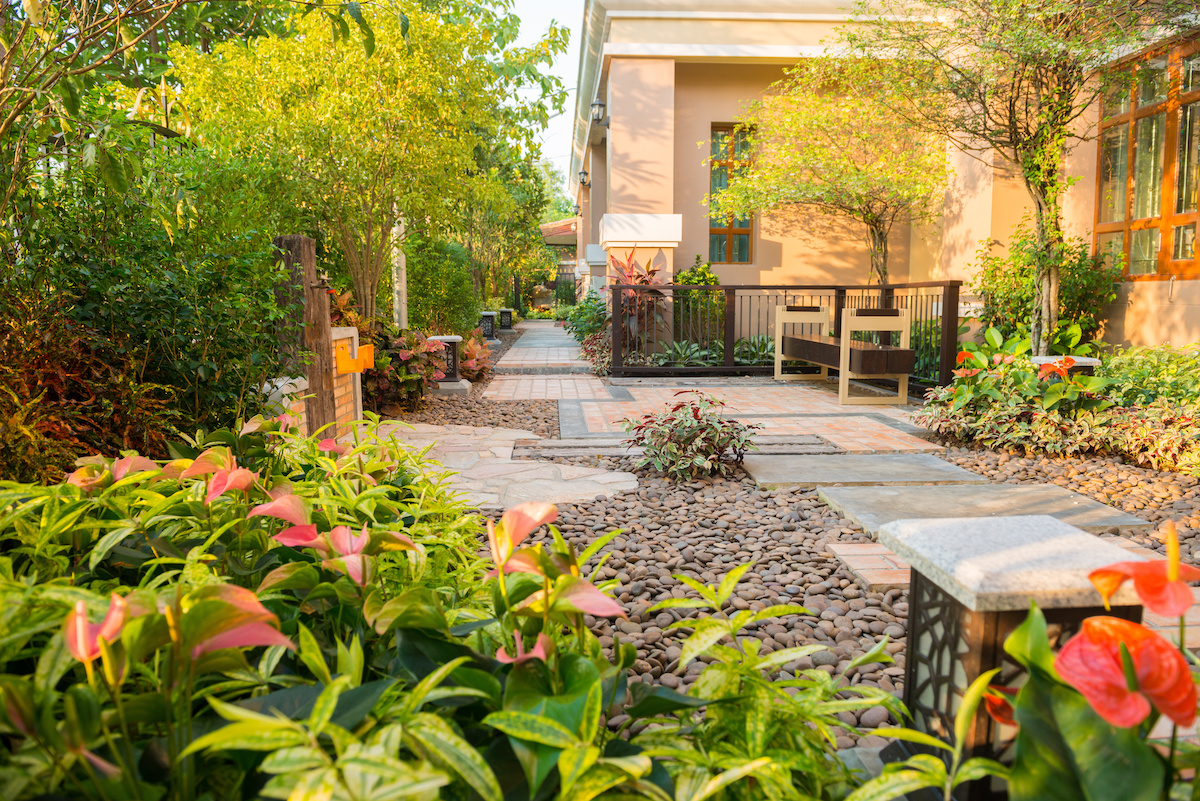 With 2023 just beginning, it's time to get inspired for your next commercial or city project! These 2022 landscaping award winners are the perfect inspiration to get your creative juices flowing for the new year. From stunning garden designs to innovative outdoor living spaces, these landscape construction projects also highlight the best softscape design trends of 2022. Read on to discover some of our favourite winners from last years landscaping awards.
Norfolk Southern Headquarters, NALP Judges Award Winner for Commercial Management
Ruppert Landscapes, Atlanta, Georgia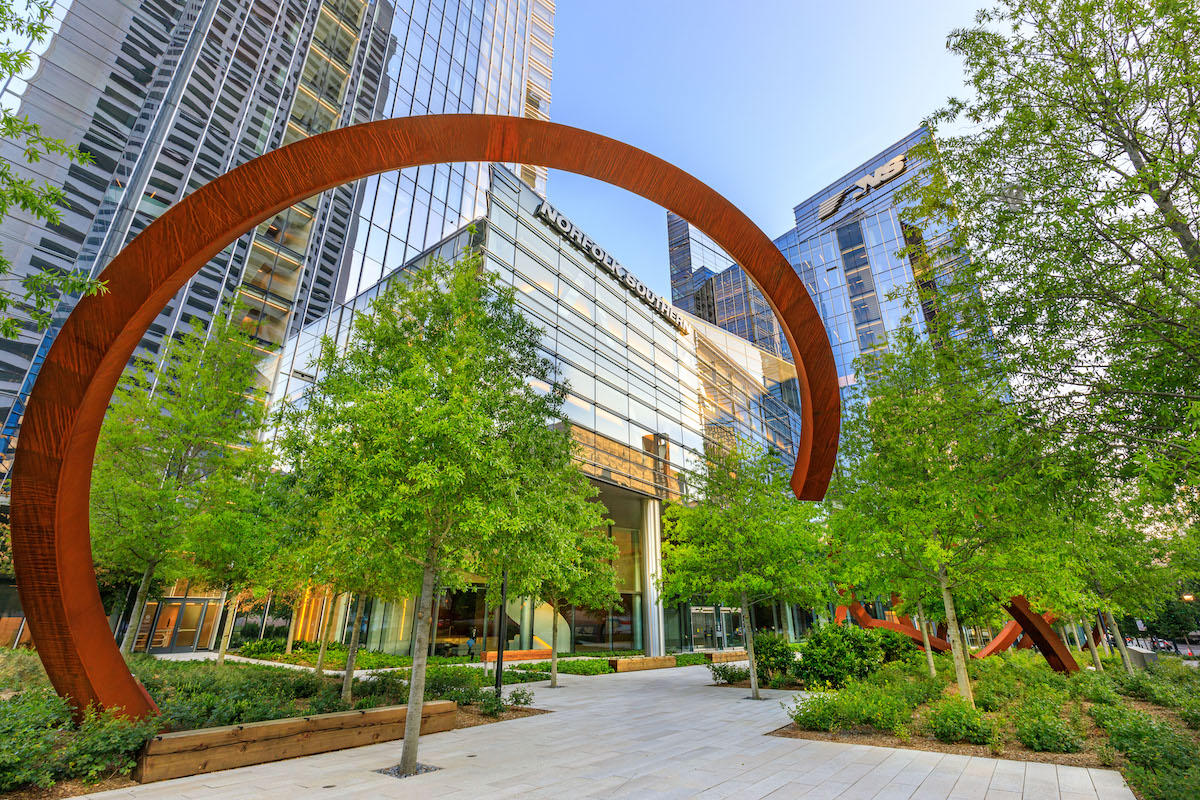 Source: National Association of Landscape Professionals
From rooftop gardens to mixed materials use, the Ruppert Landscapes team crafted a unique landscape design that pays homage to the rich railway transportation legacy of Norfolk Southern. The logistics of sourcing over 16,000 perennials and 87 trees can be challenging without a reliable team to coordinate everything. Kudos to the Ruppert Landscape crew for their creative solutions to sourcing and installation challenges for this project. For example, using a crane to lift mature materials for seven rooftop areas, and installing irrigation drip lines to ensure that all materials thrive.
Design Trends to Inspire You: Rooftop Gardens, Mixed Materials
"Perched on the Rocky Cape", Winner of Caterpillar National Landscape Awards
DaRocha Webster Landscapes, Montreal, Quebec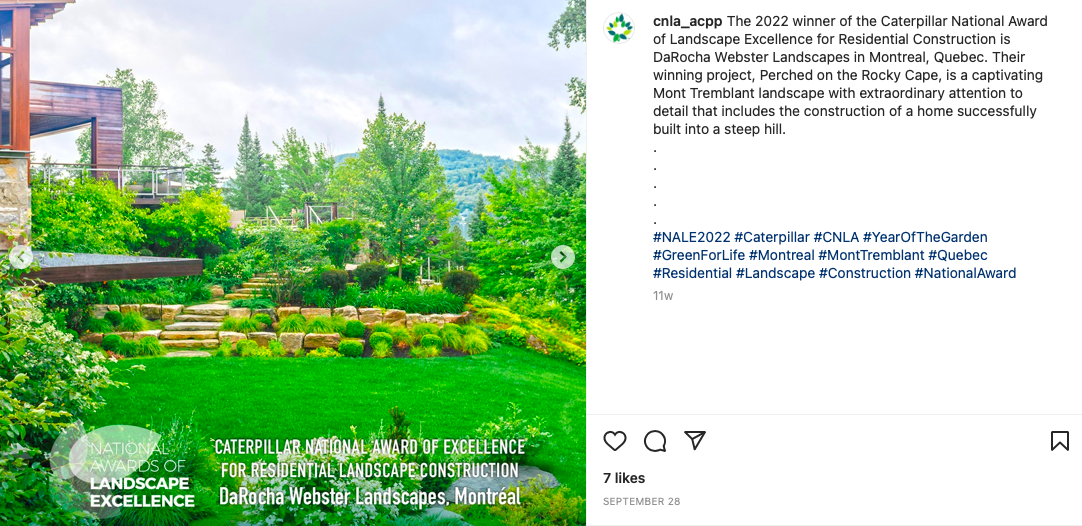 Source: Canadian Nursery Landscape Association
Winner of the Residential Landscape Construction national award, "Perched on the Rocky Cape" by DeRocha Webster Landscapes ingeniously uses existing natural materials. Using beams to connect the garage area with a rock island exemplifies the DeRocha Webster Landscapes team's commitment to using natural materials. They also spent over 252 hours to achieve a 'natural' look for all plantations for the project, a true reflection of their dedication and attention to detail.
Design Trends to Inspire You: Natural look and blending with existing natural landscape
Carpenter Park, Winner of NALP Commercial Landscape Management Awards
Southern Botanical, Dallas Texas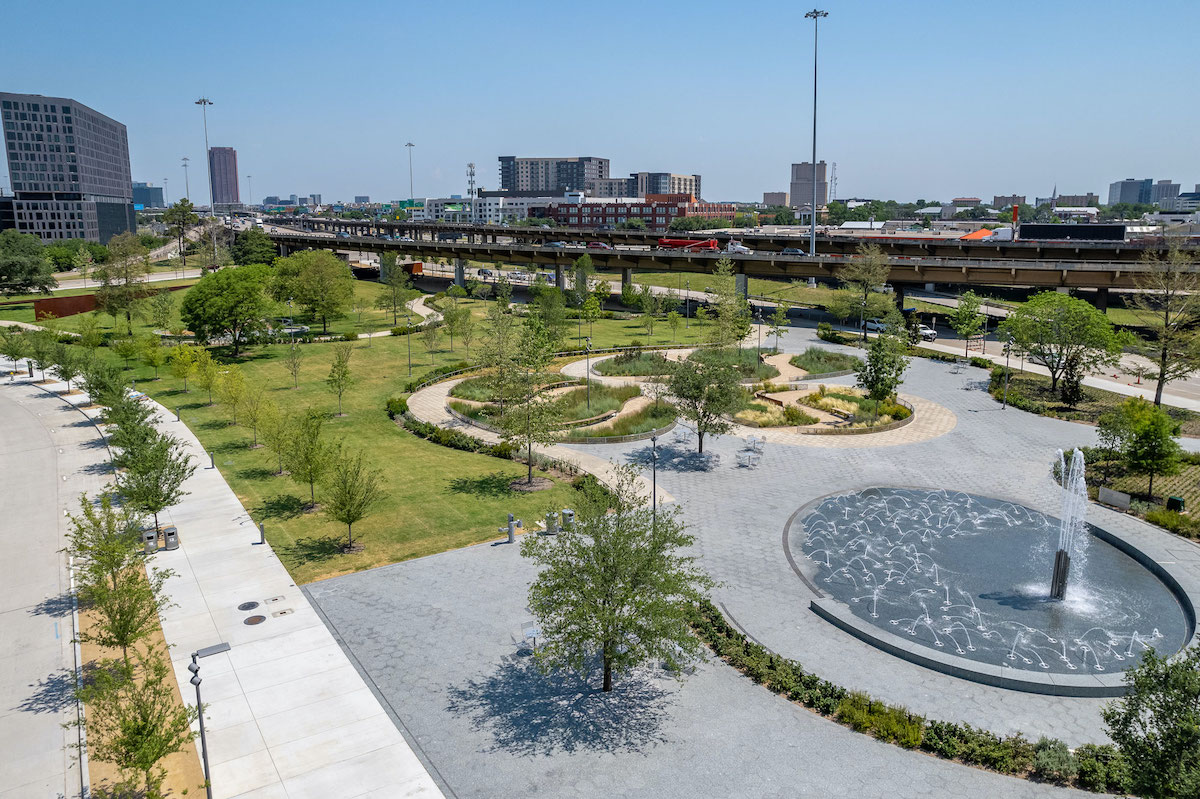 Source: Southern Botanical
Introducing more outdoor green spaces for communities has been a go to option for urban planners in the last few years. The Carpenter Park landscape design proves why. The project transformed a previously noisy, highly concretized intersection on a major highway in Texas into an urban green oasis, and an open recreational space for communities. The landscaping award recipient Southern Botanicals also included the innovative use of a cutting-edge storm drainage system for shade trees – the Silva Cell system. With its impact on communities and use of technology, Carpenter Park is definitely a worthy project to inspire you!
Design Trends to Inspire You: Storm drains, urban recreation spaces
"Urban Sanctuary", Winner of HortProtect National Landscape Awards for Landscape Design
Clintar Landscape Management Services of Halifax, Nova Scotia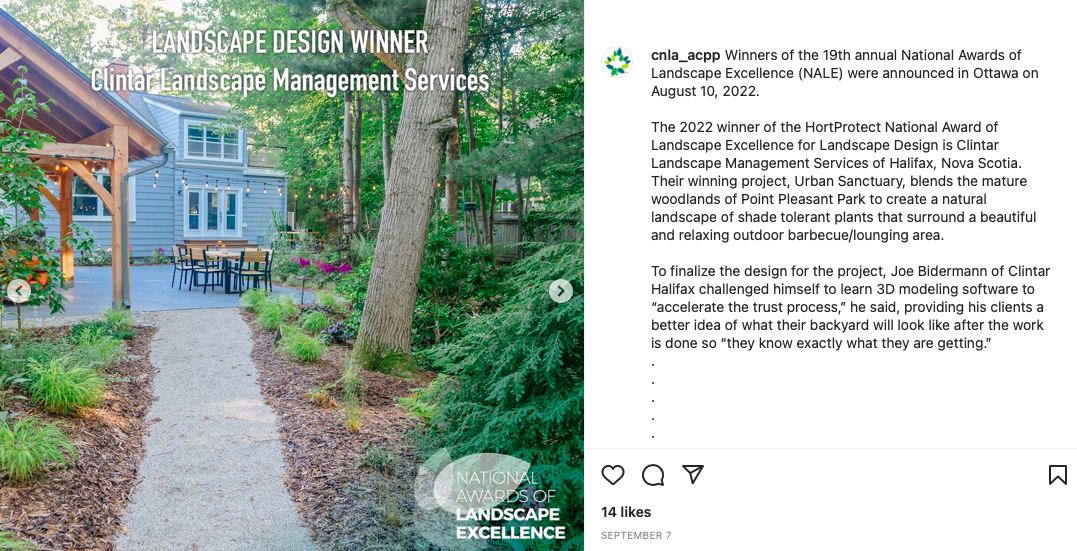 Source: Canadian Nursery Landscape Association
The movement towards creating mini forests instead of perfect lawns continues! This 'east-coast meets zen' landscape design in Halifax by Clintar Landscape Management Services is a great example of this trend. The 'Urban Sanctuary' project radically changed the aesthetics of the woodland by using shade-tolerant materials to create a relaxing and unique outdoor lounge area.
Design Trends to Inspire You: Mini forests, shade-tolerant materials
Heroes Plaza, NALP Commercial Design Build Award Winner
Goldberg & Rodler Inc, New York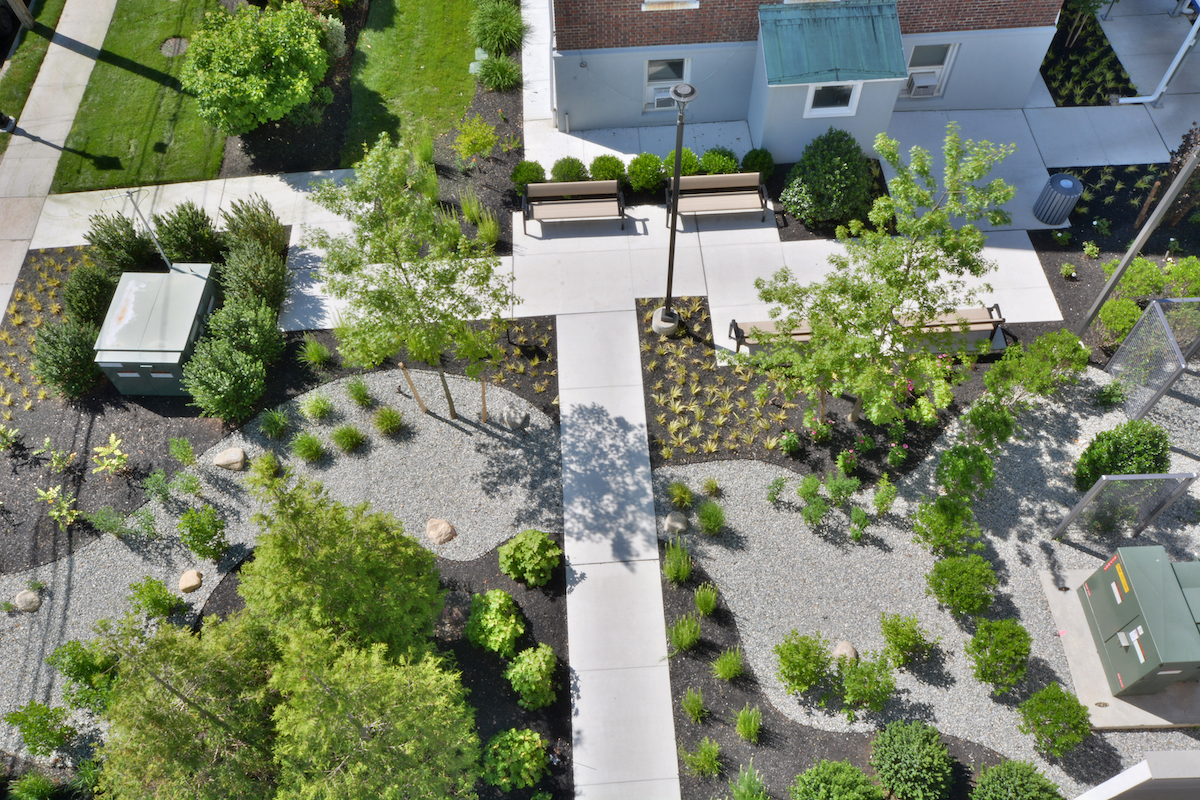 Source: National Association of Landscape Professionals
The Heroes Plaza project by Goldberg & Rodler Inc imagines a bold new community area with improved sustainability and ADA compliance. For example, the plaza makeover included recycled materials for benches, trash receptacles, and lunch tables. The Goldberg & Rodler Inc team also added shade trees to reduce the heat island effect and ADA ramps to improve access to the pavilions. With the reopening of the economy, the push for accessible design is likely to inspire many more ADA-compliant landscape designs in 2023.
Design Trends to Inspire You: ADA compliant landscape design, sustainable materials
Paradigm Condominiums, Winner of Caterpillar National Commercial Construction Awards
Seferian Design Group, Burlington, Ontario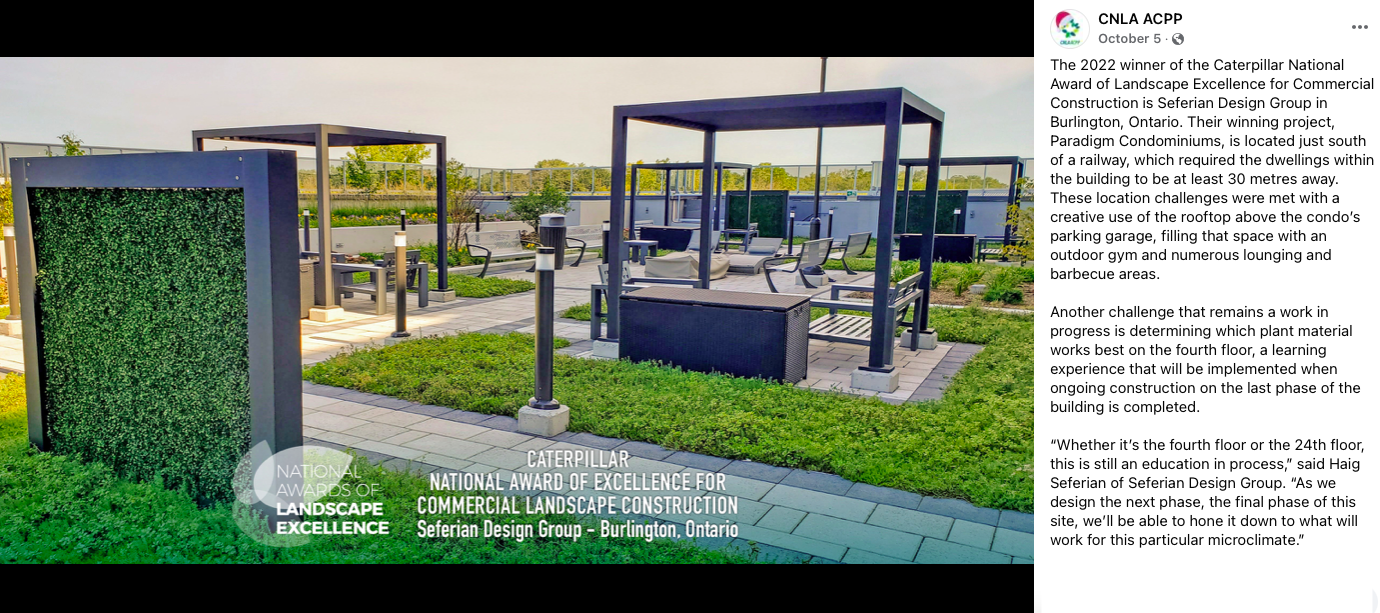 Source: Canadian Nursery Landscape Association
Multifamily units and condos are one of the fastest-growing real-estate segments across North American cities. The Paradigm Condominiums project in Burlington, Ontario, proves that community areas in tall, skyscraper condos can be vibrant and inviting. This Caterpillar National Awards-winning project uses 'micro' spaces for families divided by vertical planting walls for privacy. Seferian Design Group also deserves praise for a new approach to rooftop construction, improving each phase based on previous learnings. Landscape contractors hoping to adopt a similar approach should prepare for last-minute sourcing challenges or work with experts in landscaping procurements like GoMaterials.
Design Trends to Inspire You: Vertical Planting for Privacy Barriers
KU Medical Center Health Education Building, Winner of Landscape Awards for Commercial Contracting
Hermes Landscaping, Inc., Kansas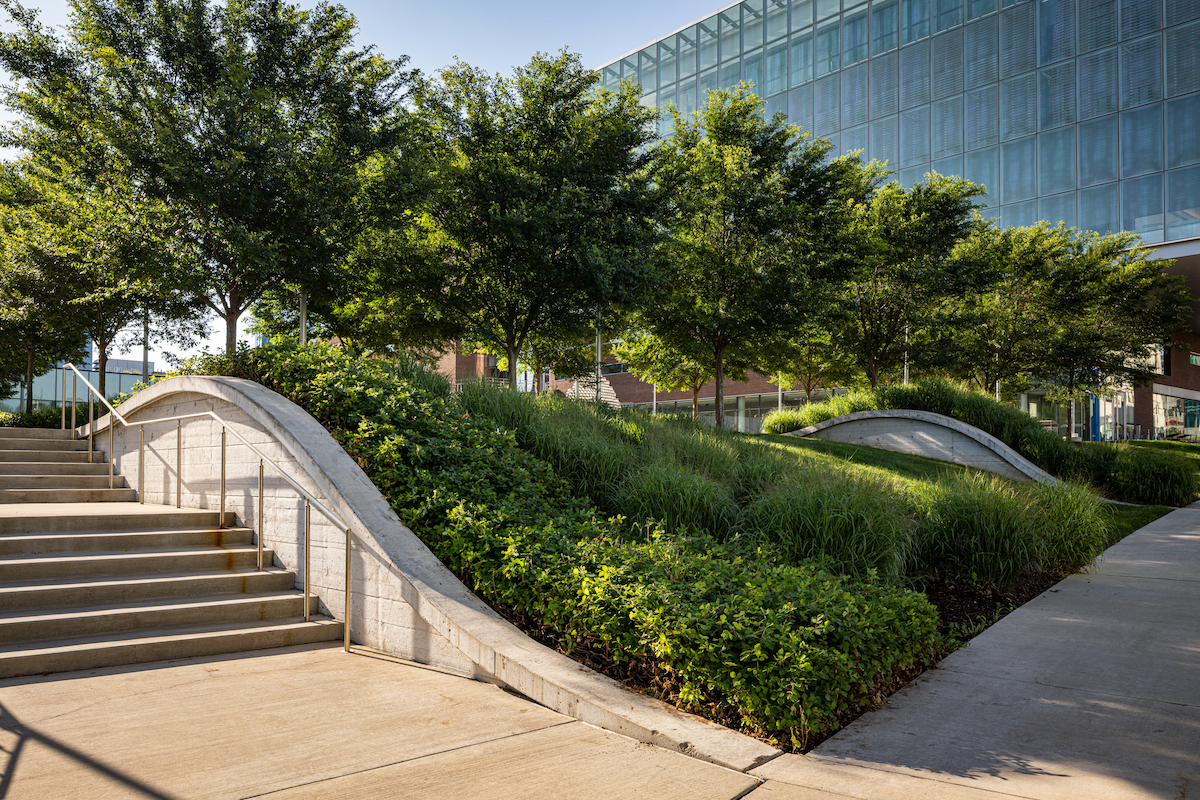 Source: National Association of Landscape Professionals
Rooftop gardens have been a popular landscaping design trend for some time now. However, this creative design by Hermes Landscaping in Kansas takes it a step further by creating a 'green roof'. Using plant materials such as sedum and native grasses, the Hermes team is helping KU Medical Center use a natural roofing solution that cuts down heating and cooling bills. The project also involved the installation of several walkways for students lined with sedum and decorative river rocks to enhance the learning experience. Green roofing can be an exciting opportunity for commercial landscape contractors in 2023.
Design Trends to Inspire You: Green Roofing to Reduce Heating and Cooling Bills
The landscaping profession can be thankless at times, with no recognition of the efforts of everyone involved. Landscaping awards can be the best way to look at our peers and appreciate their best work. Heartiest congratulations to all the award-winners of 2022. We are excited to see more inspiring landscaping projects that 2023 will bring.
***
Which design trend inspired you the most from our list of winners from the 2022 landscaping awards? Tell us on social media!