Lawn Care Industry Trends: 2022 Roundup and 2023 Predictions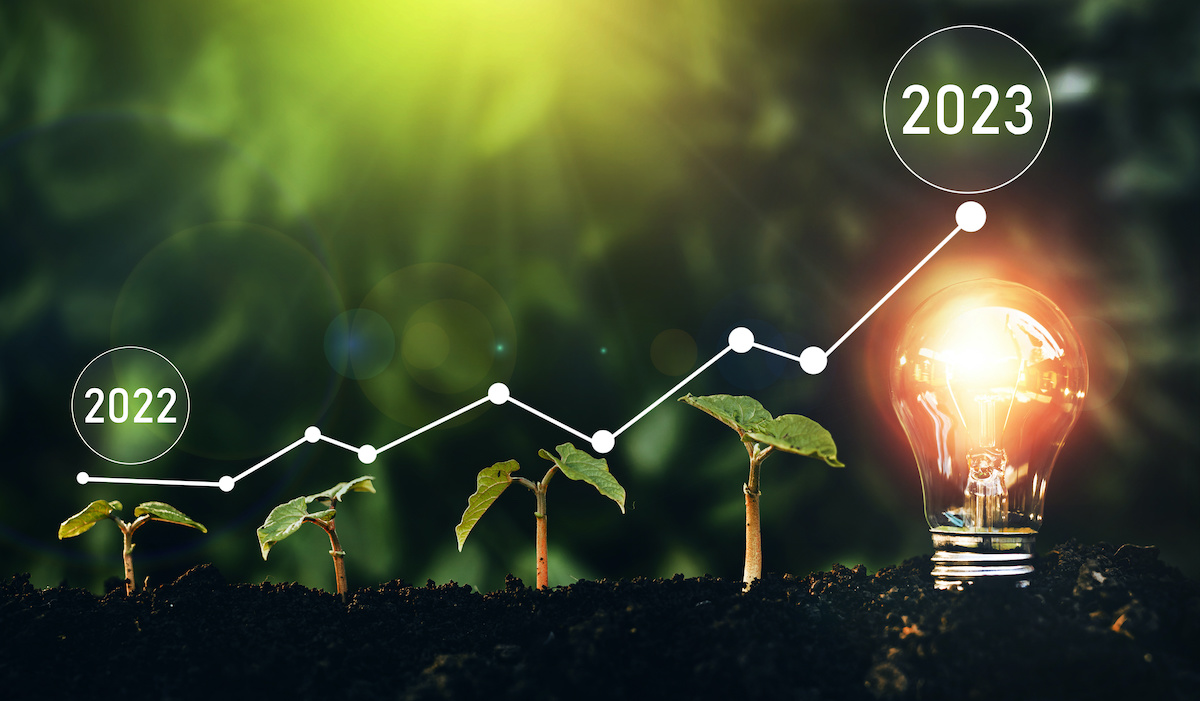 2022 was perhaps one of the most challenging years for landscaping businesses. From demand bouncing back after the pandemic to historic inflation and labor challenges, the year threw quite a few curveballs at the industry. Now that we are at the end of it, it's time to explore the trends that shaped the industry this year. Read our analysis of the top lawn care industry trends of 2022 and predictions for 2023 by GoMaterials co-founder and industry expert Marc Elliott.
Lawn Care Industry Trends: 2022 Roundup
Here's a summary of how lawn care industry trends of 2022 impacted landscaping businesses this year.
Plant Shortages Persisted in 2022 Across North America
In 2022, there was a small respite from the severe plant shortages for landscaping businesses. Although the availability of some shrubs and groundcover plants recovered, the sizes in short supply moved from larger to smaller pots. As a result of continued shortages, a large number of plant and tree varieties have continued to sell at a higher price compared to 2021. For instance, all 1 Gallon shrubs were sold at 40% higher prices in 2022.
Costs Increased for Landscaping Businesses in 2022
Earlier this year, GoMaterials identified the four key lawn care industry trends for 2022. The report captured crucial early trends – landscaping demand drivers for 2022 and a 12%-14% rise in nursery input costs. Increases in fuel costs and labor wages have contributed to costs remaining high this year, often passed on to landscaping businesses. Labor retention challenges and the truck driver shortage also remained as strong trends that changed the way industry does business.
More Consolidation in the Lawn Care Industry in 2022
Greater resilience and consolidation through mergers is one of the most positive lawn care industry trends in 2022. Large green industry businesses seem to have had a busy 2022 with a flurry of mergers and acquisitions. Brightview and SavAtree for example continued their expansion across multiple states. The lawn care operations software market has also continued its consolidation spree with GPS insights and ServiceTitan announcing acquisitions of FieldRoutes and Fieldaware respectively.
Higher Stress Levels for Lawn Care Industry in 2022
The hidden cost of the changing lawn care industry trends of 2022 cannot be ignored as we put the year in context. Landscaping demand spikes in tandem with labor challenges and higher costs meant a very stressful time for the industry. 79% of respondents in an exclusive survey by GoMaterials claimed to be more stressed in 2022. The survey highlighted the need to rely on third-party experts to address the administrative talent crunch and greater adoption of technology.
Lawn Care Industry Trends Predictions: From 2022 to 2023
As we reach the holiday season, it's the perfect time to pull out our predictions for 2023 by GoMaterials co-founder and landscaping industry expert Marc Elliott.
Rightsizing of Landscaping Demand
Multiple interest rate hikes in the US and Canada have begun to slow down the construction and investment activity in the sector. In the US, housing starts have already dropped by 8% over August 2022, and further rate hikes could bring them lower. The Bank of Canada expects a contraction in real estate investment in 2023. However, large infrastructure projects might help absorb some of the shocks. As a result, lawn care and landscaping businesses might see a change in demand patterns and a rise in competition for RFPs.
The Cost of Materials Will Continue to Rise
The Landscaping Business Trends report released by GoMaterials in 2022 predicted a continued increase in input costs. Fast forward to 2023, this lawn care industry trend from 2022 may continue to strengthen as green industry businesses cope with the double whammy of inflation and supply chain disruptions. As labor, transport, and raw materials costs continue their upward trajectory, some lawn care businesses might see a drop in their net profits.
Transport Will Remain Tricky with Truck Driver Shortages
2022 saw only a 'marginal' improvement in resolving the backlog of truck drivers. As per the latest numbers, North America is still short of at least 78,000 truck drivers, down from the 80,000 needed last year. On the other hand, the freight demand is already back to 2018 levels. This means most landscaping businesses may need to prepare for higher transport bills. Ideas such as combining trucking loads for multiple businesses might help save transport costs for landscaping companies.
Plant Shortages to Stabilize
The good news for the industry in 2023 is that we are almost out of the landscaping plant shortage tunnel. At least there are fewer chances of a repeat of the extremes that the industry went through in 2020 and 2021. However, many popular shrubs are still in recovery since their one to three-gallon sizes were used as replacements for larger sizes. Additionally, the tree shortages prevalent across the Northern states and Quebec in Canada may persist due to longer recovery cycles.
Drought Resistant Plant Demand to Rise 
As per the US government drought information system, 60% of the 48 Southern states are undergoing moderate to extreme droughts. The public policy and legislative efforts to control the dry conditions will likely increase the demand for drought-resistant plants and water-wise landscaping in the coming year.
All things considered, 2022 proved to be a year of mixed results. Labor and plant shortages and unpredictable landscaping demand tested the landscaping operations teams. 2023 is likely to bring its unique challenges, and the industry will need to show more resilience and collaboration to stay on the growth track. We wish you a great year ahead!
***
What will be the biggest challenge for landscaping businesses in 2023? Tell us on social media!