2021 Landscaping Trends Forecast from GoMaterials CEO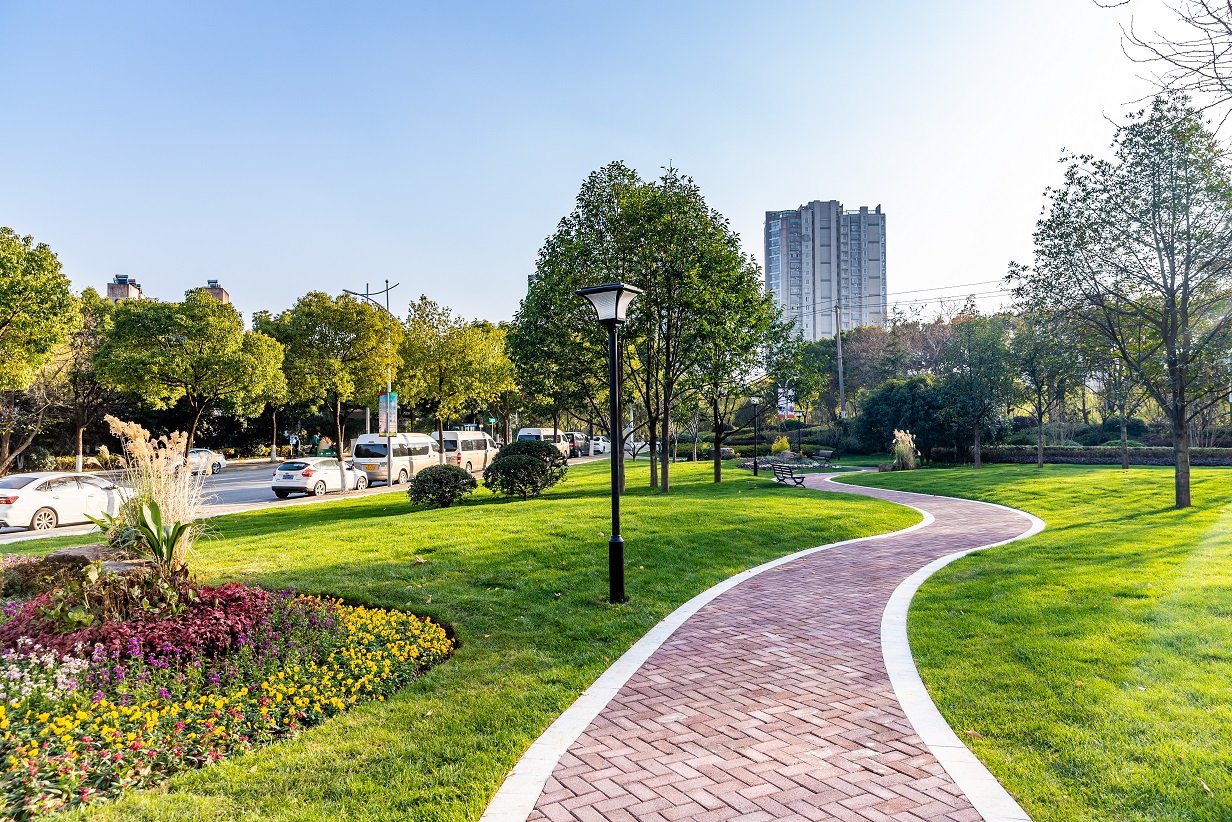 2020 has forced many industries to adapt and modify norms. The landscaping industry wasn't any different. For example, with lesser travelling and no vacations, many homeowners decided to decorate their backyards leading to a surge in residential landscaping services. However, on the other side, commercial projects were either postponed or kept on indefinite hold. The mid-year survey by NALP reflects some of these realities with close to 60% of residential landscape professionals admitting to an increase in business. Naturally, the industry outlook for 2021 is mixed with apprehension and hope for a revival. We asked GoMaterials' CEO Marc Elliott about his predictions for the current year. Here are six landscaping trends that Marc recommends following this year.
Landscaping Budget Trends – City and Residential
The split between residential and city or commercial budgets was the highlight of the NALP mid-year survey. It indicated that remote workers were willing to re-allocate some of their funds into long-pending landscaping projects. Many of these projects could have contributed to the unexpected increase in business. However, 2021 could be trickier as many of these big remodelling projects will not be available again, and larger economic trends could swing the market towards more conservative budgets for landscaping.
On the other hand, commercial work could pick up due to the backlog of pending projects fuelling the demand. City projects could also see an upswing with a focus on climate change and the need to improve urban canopies.
Key Takeaway from Marc
"Landscaping contractors will need to monitor the macro-economic trends and respond actively with competitive pricing."
Landscaping Tree & Perennial Selection – Native Varieties and Biodiversity
Multiple UN Sustainable Development Goals (UNSDG) identify climate change as a concern.  Going into 2021 we expect environmental consciousness to have a bigger role in the design choices made by architects and landscaping professionals. As a result, we foresee more focus on plant diversity and native tree species.
Apart from climate concerns, there could also be a business case for native trees and greater biodiversity. For example, native alternatives to the lawn can be more drought tolerant and cut down water consumption.
Diversity in landscaping trees has also emerged as a rational choice because of the impact it has on the ecosystem diversity. Research by entomologist Doug Tallamy highlighted how native oak trees support more than 500 species of caterpillars which in turn sustain chickadees. Greater biodiversity is also good for the business. When a large urban project includes a greater variety of trees, it reduces the possibility of contracting diseases prevalent in specific species. 2021 could see more landscape contractors across North America choosing diversity as a guiding principle.
Key Takeaway from Marc
"Diversity in plants reduces the species-wide diseases and native trees are great to reduce water consumption."
Labour Shortage Could Impede Growth
Apart from many severe challenges that defined 2020, labor shortage stood out as the most cited concern by the landscaping community. In the NALP mid-year report as many as 84% of respondents said that they are still trying to hire this year. It was also the major concern of 43% of participants in Lawn and Landscape's State of the Industry Report. During our conversations with our nursery partners most claimed that due to COVID-19 there was approximately 20-30% reduced man force. This will have implications next year and again around 5-6 years later.
Since nurseries had a shortage of workers in 2020, there could be a shortage of potted plants and shrubs etc. (units that grow in one year) in 2021. Also, in 5-6 years, we may experience a shortage of large caliper trees. This means the average cost of supplies may go up in 2021 unless demand drops due to larger economic trends.
What's true for suppliers is also true for landscape professionals. With reduced labor in 2020, fewer large-scale projects could be completed. While most of this isn't exactly a lost demand- as some of these projects may come back next year, a reduced number of quality workers may cut down the completion rates. This gap will likely be met by increased prices for landscaping, but the industry needs to be watchful as any drop in demand will mean non-recovery of these losses.
Key Takeaway from Marc
"Reduction in profits due to labor is likely to be met by increased prices for landscaping in 2021, but the state of the economy could be a deciding factor."
Spring 2021 Surge
When the COVID-19 pandemic began in early 2020, many large landscaping projects were kept on hold or postponed indefinitely. At least some of these could be cleared for spring, creating a surge of landscaping opportunities around the end of Q1. Additionally, as part of stimulus programs, many new infrastructure projects could get assistance from the federal governments. Nassau County in New York, for example, has already submitted a proposal worth $583 million, aimed at generating roughly 3300 jobs. This could be a huge opportunity for commercial landscaping and construction industry professionals in New York.
An article published by Research & Markets claims that there may be an upswing for the residential market as well.  As the vaccine rolls out, a large section of remote workers could be returning to offices. This means the gardens and DIY landscaping trend could see a reversal in the 2021 spring.
Key Takeaway from Marc
"2021 spring could see a surge in construction and landscaping activity. The industry needs to be ready to optimize their bidding and hiring to fulfil this demand and keep an eye out for stimulus announcements that could play a huge role."
Landscaping Technology – Rise of the Landscaping OS
When it comes to software, the pandemic has been an opportunity in disguise for the landscaping industry. A large section of landscaping professionals and suppliers in the GoMaterials network chose to invest in upgrading their systems in 2020. If you look closely, however, you see a new 'Landscaping OS' emerging with a move away from just a basic software to a technological suite with interconnected functions. Think of it as a landscaping industry version of software ecosystems such as Google or Apple.
Most landscaping professionals in our network are already busy creating an API with either LMN Software or Aspire already. This trend will grow stronger as both companies strengthen their offering in 2021. The result is likely to be more digitized operations for the industry. If you're hunting for project management software, do read through our quick checklist post here.
Key Takeaway from Marc
"There seems to be a strong consolidation trend in landscaping management software. The next few years could see the landscaping industry benefitting due to an emergence of an end-to-end management system."
Design – Mixed Texture will Dominate Landscaping Trends

Geometrical patterns and mixed textures were a rage already in the second half of 2020. Many of the projects that GoMaterials participated in chose a slight variation of plant and tree materials while keeping a consistent theme. This approach has been gaining more acceptance for some time, and 2021 could be the year when it becomes ubiquitous. The result could be dramatic for the supply and demand of both softscape and hardscape materials. For suppliers, this may mean forging new collaborative partnerships to make sure they diversify their inventories and are ready for more diversified demand. On the other hand, landscaping professionals may need to rejig their sourcing channels as well and reach out to multiple suppliers for their material needs.
***
Aftershocks of 2020 will dominate most of 2021 landscaping trends, but the fact remains that this industry got through a tougher phase without witnessing massive damages that other industries went through. With a vaccine on the horizon, recovery will begin, and we will see green shoots of growth! What are your expectations from 2021? Let us know in the comments!