5 Quebec Landscaping Companies Using Instagram Effectively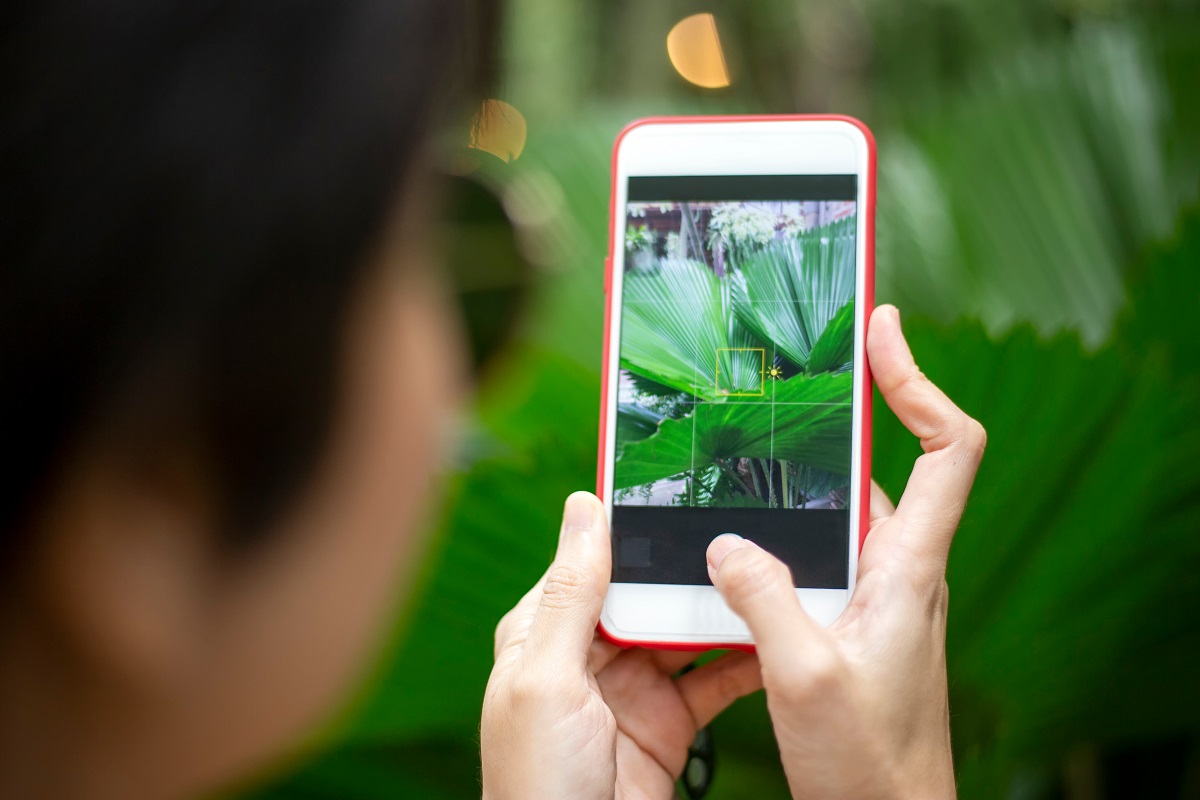 It is not a secret that Instagram marketing for landscaping companies has become a crucial part of the business. As Marketing Insider Group highlights, having a social media presence can be a great strategy to communicate authority and encourage user engagement. However, as more landscaping companies start using Instagram, you would need to put extra efforts to stand out. Why not learn from the best?  Check out the full post below to find out how five Quebec landscaping companies are using Instagram with different and effective styles. Perhaps it will generate some new strategies for your own landscaping company.
Northstone flaunts their luxury landscaping swag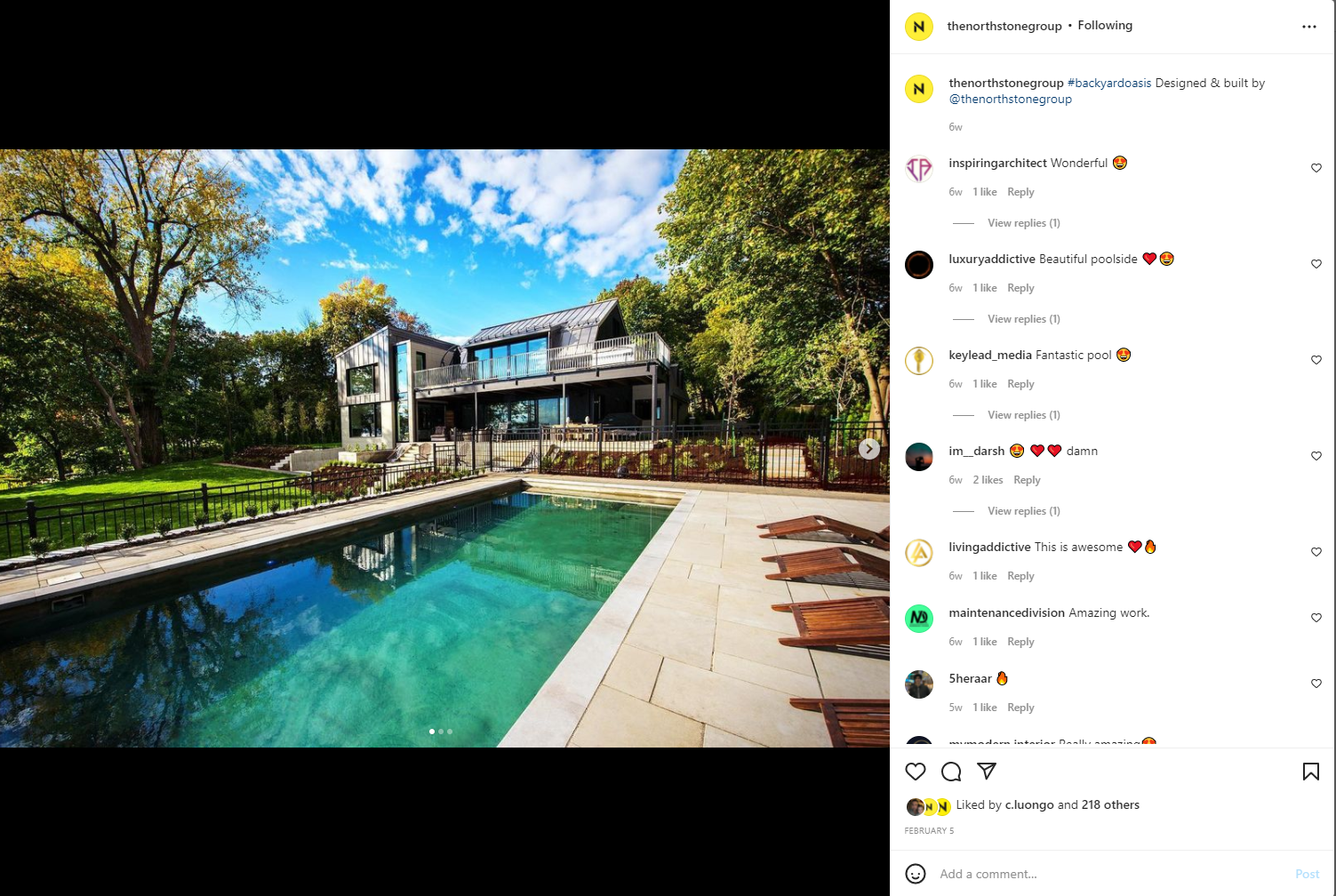 Northstone is a major player in the landscaping social media game. This pool design and landscaping company based in Montreal has a flair for luxury designs. They also do designs worldwide. They have 31.9 K followers, and the comments are flooded with users fawning over the designs. The projects include fit pits, outdoor kitchens, and luxury landscaping projects with a lot of curb appeal. Their videos feature energetic club music and crisp drone shots that immerse the viewers into the scene. Their projects redefine #luxurylifestyle.
Groupe PTE intrigues with their pool makeovers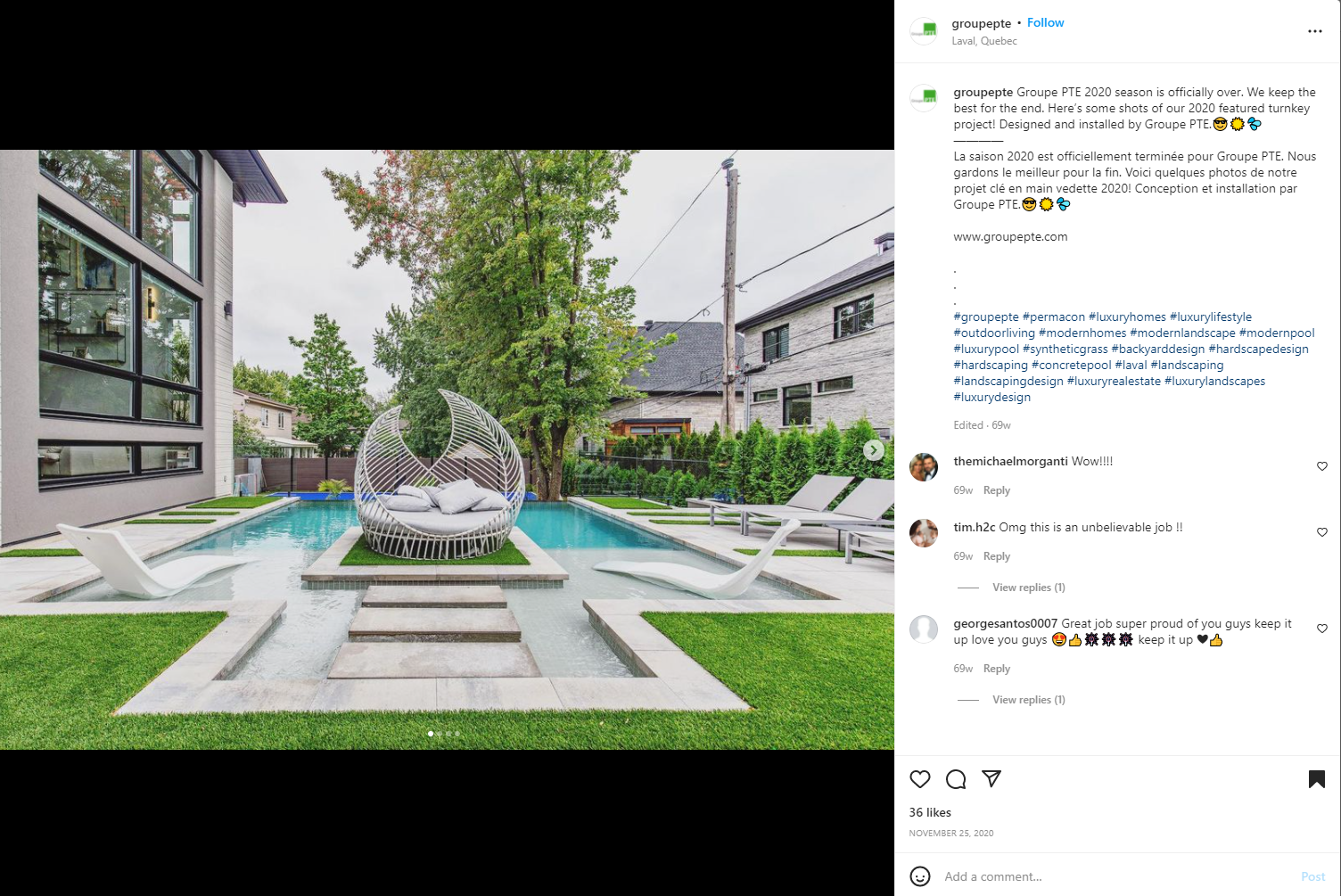 Groupe PTE serves the Greater Montreal area and focuses on pool designs. Their page includes neat behind-the-scenes footage, which is intriguing to the viewer who becomes curious to see the final result. Their designs are modern, and their Instagram page displays a lot of the awe-inspiring work behind these beautiful projects. And come on, who doesn't dream of lounging by their pool on a hot summer's day?
Strathmore adds a personal touch with staff pictures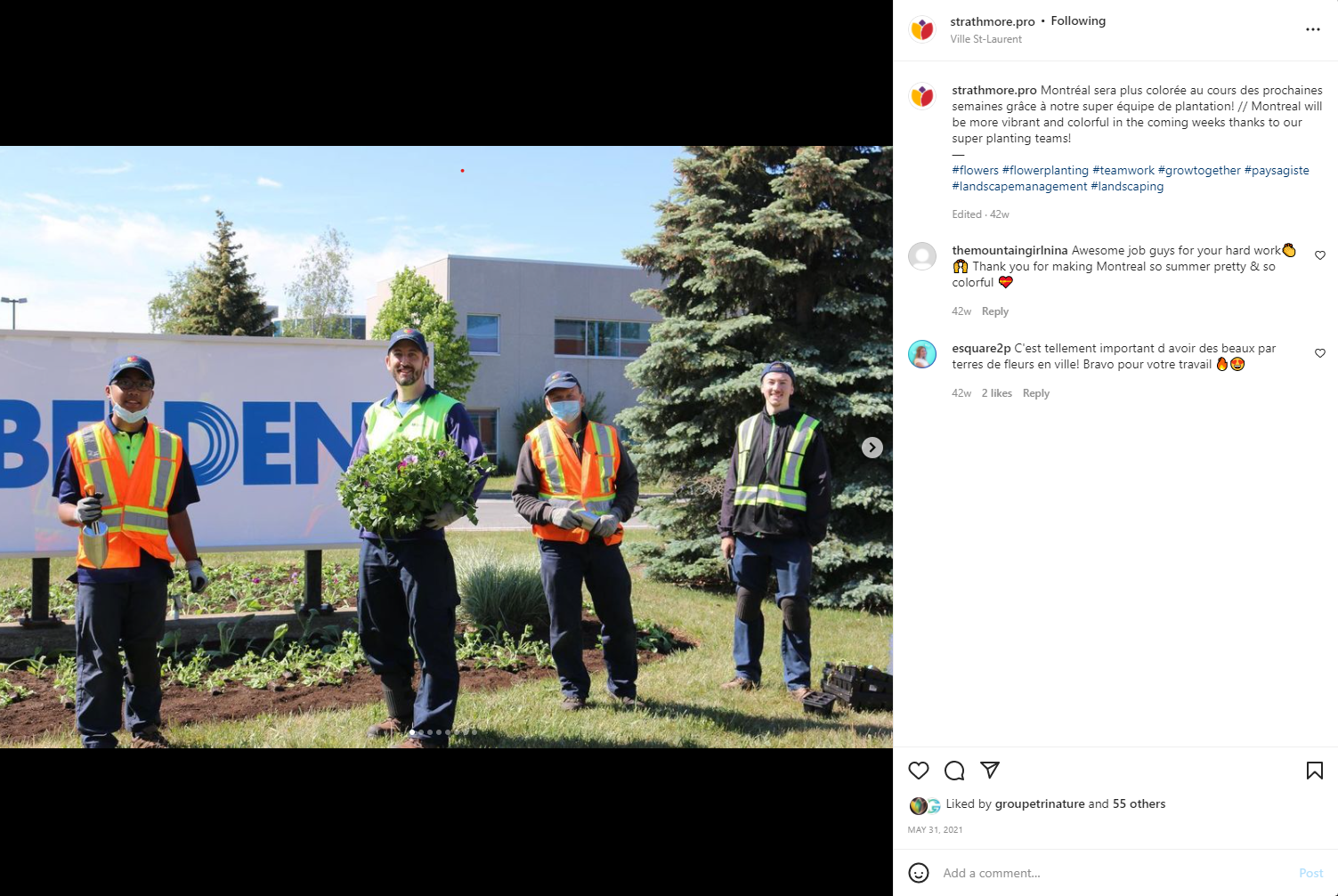 Strathmore's headquarters is in LaSalle, QC, and has been in the landscaping industry for over 55 years! Their page has nearly 5K followers and has some great "stories" featuring their lively work events. One of their services is snow removal, which Quebecers are very familiar with, even when it is nearing spring! Their page features great photos of the staff in action, which gives the company a personal touch. The Instagram site also features an award-winning project for the 2022 Canadian tulip festival in Ottawa, for which they had to plant a whopping 36 000 bulbs. GoMaterials has sourced materials for an impressive project of Strathmore's, which you can read all about here.
Équipe Logan Increases Engagement with 'This or that' for landscaping design
Équipe Logan has their headquarters in Prévost, Quebec, in the Laurentian Mountains. Their projects inspire a whole new level of beautiful cottage landscape design with a lot of pictures with stunning spring and summer greenery. One of their strategies to increase user engagement is with their posts that show two different design elements. Their page has many posts that feature two different design ideas. This strategy is a great way to increase user engagement. The caption then prompts the audience to choose their favorite between the two. This idea can encourage user engagement since the user might feel compelled to share their opinion. At the same time, they see the kind of work that the landscaping company can offer.
Reflex Paysage uses seasons and activities to market landscaping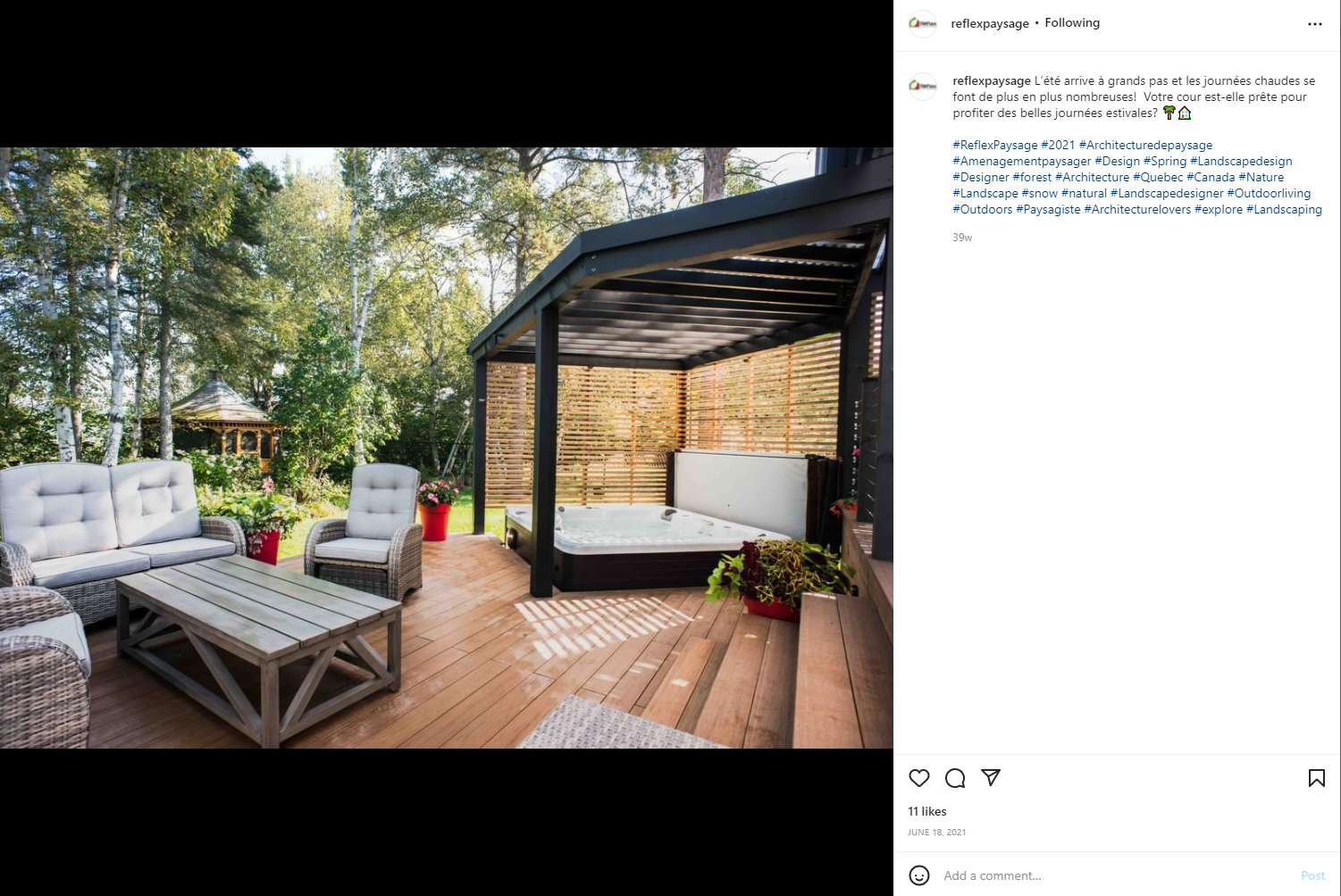 Reflex Paysage has been family-owned since 1989, and their headquarters are in Chicoutimi, in the city of Saguenay. The page does a great job of helping the user imagine how Reflex Paysage's services might be needed year-round. There are not only images of charming patios with fire pits and BBQs, but also photos that conjure up the idealized après-ski. This is especially interesting considering the headquarters ' proximity to the snow-capped trees in the Laurentian Mountains.
A picture is worth a thousand words can be especially relevant when it comes to landscaping projects. It's no wonder that Instagram marketing for landscaping companies is becoming more important than ever before. Consider implementing some of the listed strategies and watch the likes flood in!
***
Which was your favorite page? Let us know on Facebook. For more landscape designs featured on Instagram, you could read our blog post here.