Q1 2022 update for the GoMaterials platform: digital quotes and orders are live!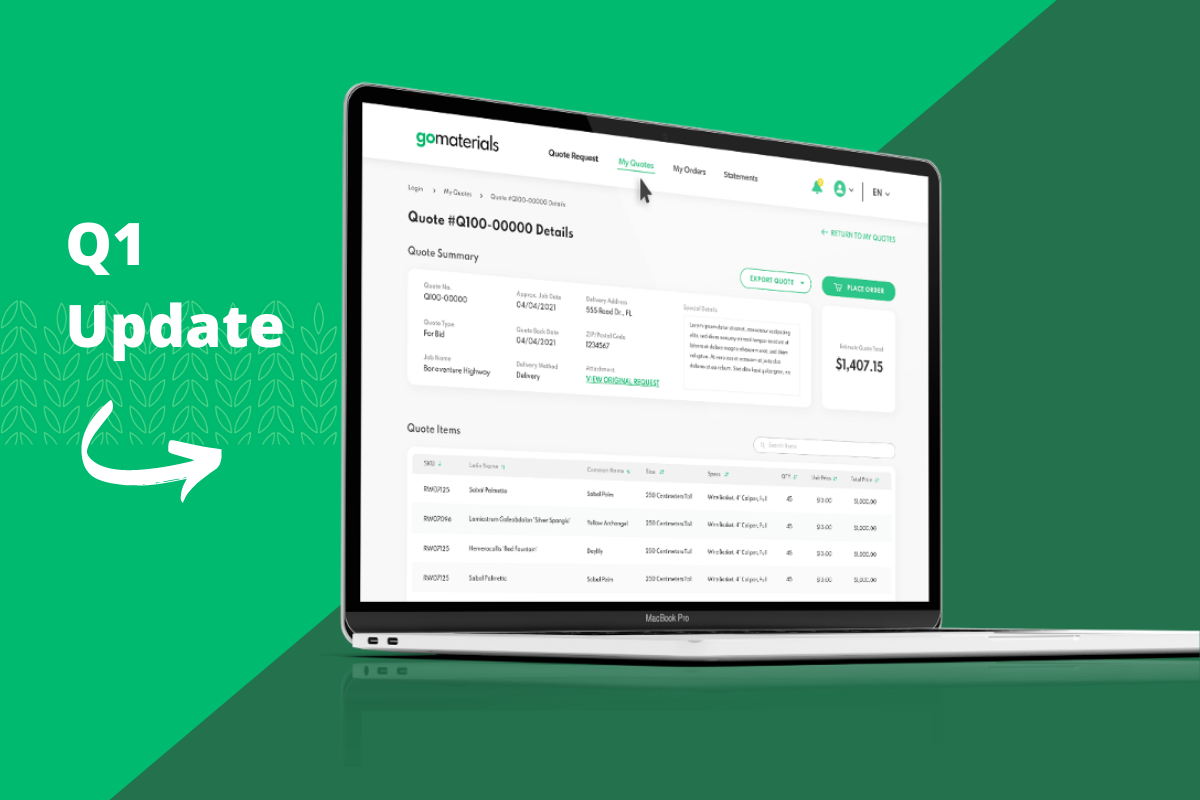 The GoMaterials team is proud to announce some new features available on its online platform. We know the headaches that come with the ordinary plant procurement process, and we're constantly working to adapt our platform based on the feedback that we get from the landscaping community.
The Q1 update to the platform will include some of the most requested features such as the digital and interactive quotes as well as the ability to add custom reference or PO numbers to improve tracking.
Here's an overview of the new features for the platform:
Digital and interactive quotes and orders
The Q1 update allows you to view your detailed quote or order information right in the platform. The digital view also makes it easy to track any changes to your quote or order with color coded highlights for substitutions or unavailable items.
Benefits of digital quotes and orders
Ensures that information is always up-to-date and easily trackable
Flags real-time changes on quotes and orders that are directly accessible on the platform
Downloading quotes or orders
You will still be able to download any of your quotes and orders as an Excel file after the Q1 updates. The export button will be found on each quote or order details page.
Adding a custom reference number on any quote requests or orders
Being able to track quotes and orders using custom reference numbers has been one of the most requested features by our users. Q1 updates delivers on this request! Now users can add their internal accounting or job numbers to match their plant quotes or orders with GoMaterials.
Benefits of custom reference numbers
Easy to track and match GoMaterials plant orders with external job numbers
Allows for more clarity for accounting purposes
How to start using the new features
The Q1 update to the GoMaterials platform will be available to all users of the platform starting April 4th, 2022. No specific action needs to be taken by the users to enable or use the new features on the platform. If you'd like some general info on our platform, you can read more here. If you don't have an account with us yet and want to see what it's all about, you can create an account in under a minute here.
Beyond the latest updates, we are excited to keep on making improvements to our platform to make plant sourcing, simpler, hassle-free, and more intuitive. Stay tuned for our next update to learn more about what's coming up next!
***
Have questions about the platform, or the new features included in the Q1 update? Get in touch with your account representative today!