Must-Know Hardscaping Trends for Landscapers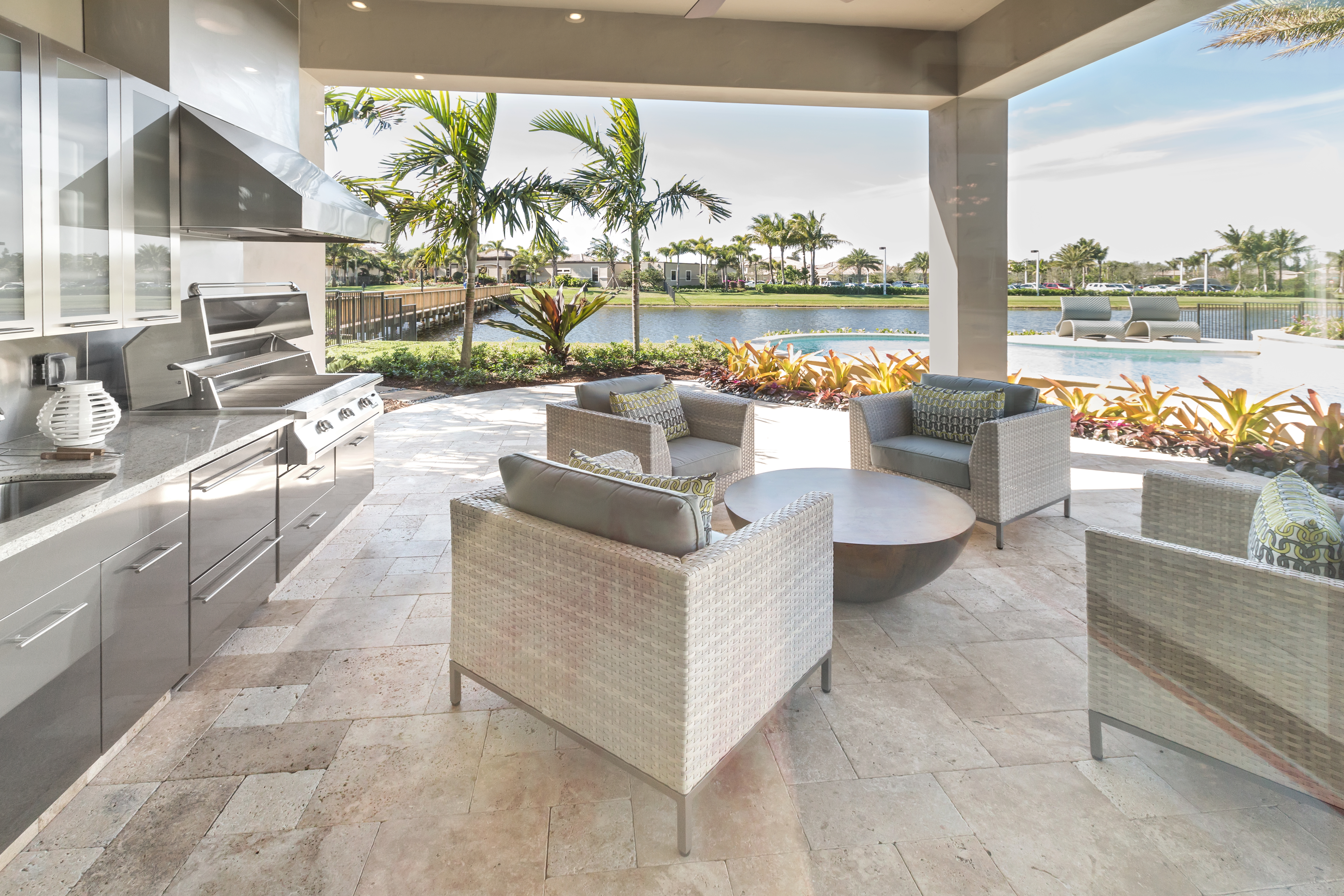 According to landscape industry experts, hardscaping has seen a slow and steady growth over the last few years. A recent survey by Turf magazine showed that 52% of their respondents believed their hardscaping revenue would increase over the next year. The majority of contractors surveyed for the 2019 Green Industry Outlook also listed hardscape materials as a top purchase for their clients.
Since hardscaping provides homeowners with a 20-30% ROI, it's not surprising that there's an increased demand for the service from clients who are looking to invest in home renovations.
Are you looking for ways for your company to benefit from this growing category? Well, staying on top of the latest trends in hardscape design is a good place to start.
Outdoor Kitchen
An easy way to provide clients with a hardscape idea that can potentially increase their home resale value by nearly 25% is to propose an outdoor kitchen area. The best outdoor kitchens come decked out with pizza ovens, gas grills, refrigerators, warming racks, and tons of prep space. Some outdoor kitchens even utilize built-in counter heaters to melt off ice and snow, making outdoor cooking a year-round affair. While the price range for this trend typically falls between the range of $4,000 to $20,000, the more luxurious add-ons can bump the price up to $100,000 in rare cases. In a 2019 Outdoor Kitchen Consumer Profile, the majority of respondents opted for family-friendly outdoor kitchens that could be used casually a few times a week for at least three seasons a year.
Permeable Pavers
Today's homeowners want upgrades that are sustainable and responsible, and permeable pavers fit in perfectly with this eco-friendly trend. Not only do permeable pavers provide natural drainage and filtration, but they can also be made using recycled materials. Plus, the permeable pavement market is expected to grow into a $22 billion business by 2026, with an estimated compound annual growth rate of 5.7%. 88% of consumers prefer companies that help them go green, so you can either choose to be that helping hand or lose out on all that potential revenue. This is definitely one trend that even Mother Earth can get on board with!
Looking for other eco-friendly solutions? Check out our "3 sustainable landscaping solutions every landscaper should know" blog post!
Outdoor Fireplace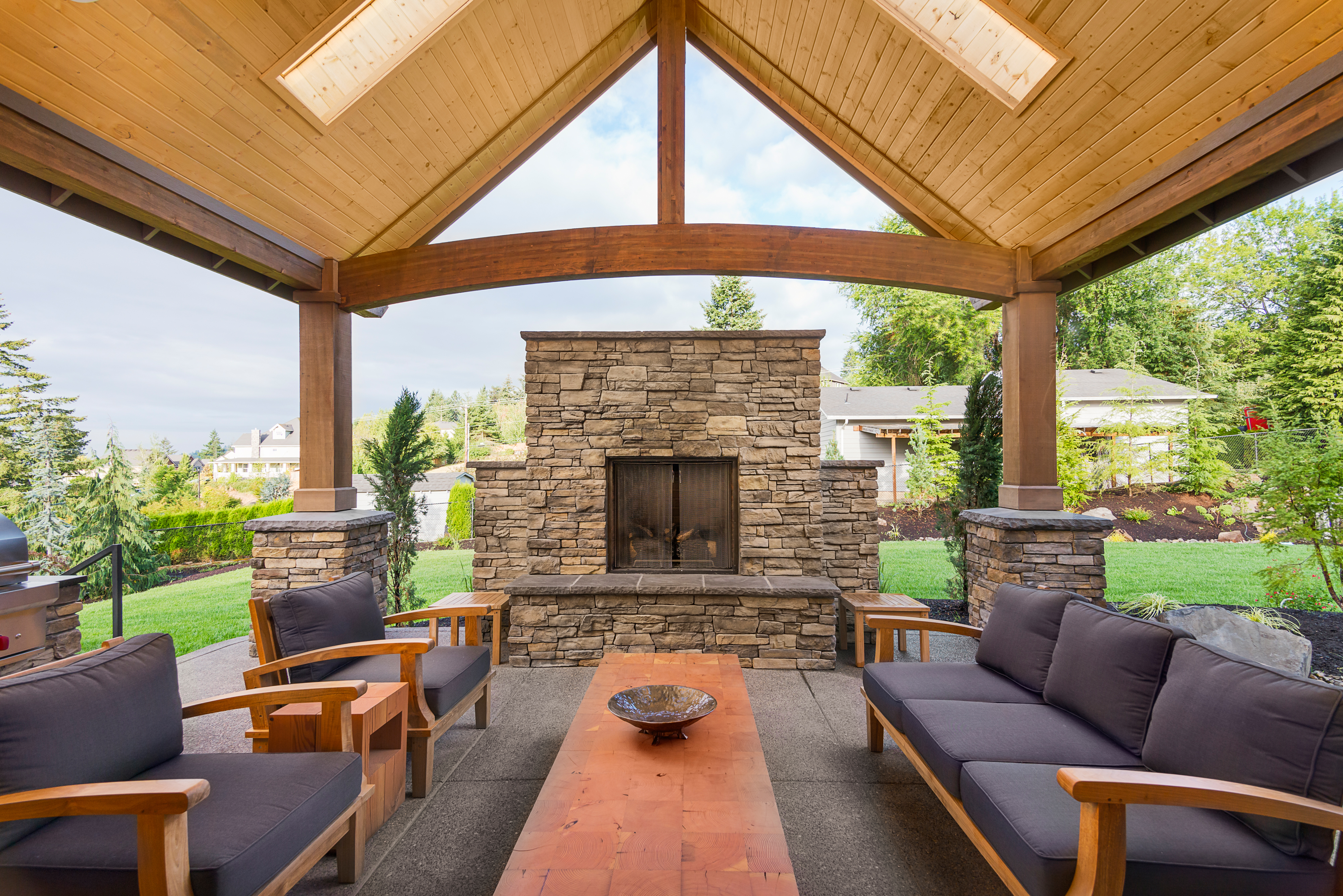 It's becoming increasingly clear that customers want backyard hardscape designs that allow them to socialize outside. What better way to get everyone to come together than around a custom-built outdoor fireplace? A sophisticated outdoor one can combine the cozy feeling of a regular fireplace with the relaxed vibes of a campfire. According to experts in real estate, an outdoor fireplace is a must-have in any luxury home. This hardscape's trending power is further confirmed by the fact that it can increase the value of a home by an average of $3,500. These days, most people are opting for gas or electric fireplace options.
Pergola
29% of contractors listed outdoor entertainment areas as a hardscaping trend that they expected to gain the most traction with their clients. Customers in warmer climates can get away with an open-air design, while others need some overhead protection. Pergolas are the latest shelter trend. Today's modern pergolas are a huge upgrade from the ones from the past. They can be designed with roll-down windows, space heaters, dimmable lighting, sound systems, and more.
Stone, Blush & Metals
 You might still be wondering which materials and design options to use for the execution. According to the National Kitchen and Bath Association, 57% of homeowners are choosing stone for their outdoor countertops. Many clients are also opting for stone veneer to mimic the appearance of natural stone. Light blush tones are a hot neutral tone in landscaping at the moment. In addition, metals are in when it comes to the material of choice—especially brushed stainless steel and industrial-looking blacks. Durable and low-maintenance, the right metal can add a bit of dimension and texture to any outdoor space.
Which of these hardscaping trends are you most excited about sharing with your clients?