Q2 Updates for the GoMaterials Platform: Phased Orders & Real-Time Order Status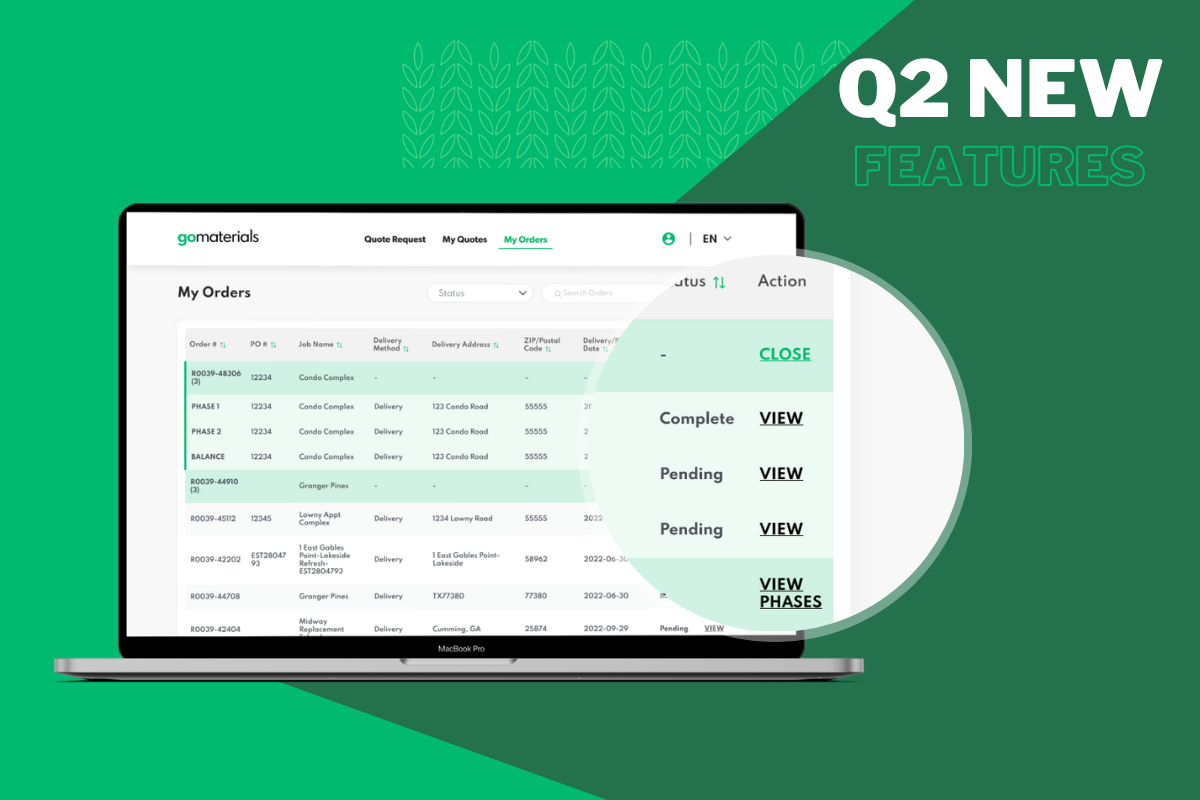 One of the biggest challenges for landscaping operations teams is trying to keep track of irregular timelines. This is especially tricky with larger jobs that involve multiple delivery phases spanning over weeks or even months. Now, there's a solution with the two new features already made available on the GoMaterials Platform!
Continue reading to learn more about 'Phased Orders' and 'Real-Time Order Status'!
1. Phased Orders
How to use the 'Phased Order' feature?
To get started, you can make a request with your operations or sales representative to have your order phased out. It cannot be automatically applied to any order. After the request with your representative has been completed, you will be able to see your Phased Order on the platform.
What does my Phased Order look like?
Phased Orders can be easily distinguished as they will have the number of phases in parenthesis next to the order number and a "VIEW PHASES" button.

What are some of the benefits?
First and foremost, the Phased Order feature will help provide clarity on timelines for the delivery of materials. After all, some of the larger projects can last months. Another bonus is the ability to manage billing separately for each phase. Say goodbye to the billing confusion!
Can I get a "quick view" of the phases of my order?
Yes! To view the nestled, basic information of the Phased Order, click the "view phases" button for your order.
It will show the respective phases' delivery method and address, ZIP/Postal Code, Delivery/Pickup Date, and whether it is booked, pending, or complete. Beneath the order phases is the balance of the materials that still need to be delivered. Please note that for operational purposes, the 'balance' phase is also considered to be the last phase of the order.

How can I view the details of my Phased Order?
Just like with a regular order, you can see the Order Summary and Order Items of each phase after selecting "view".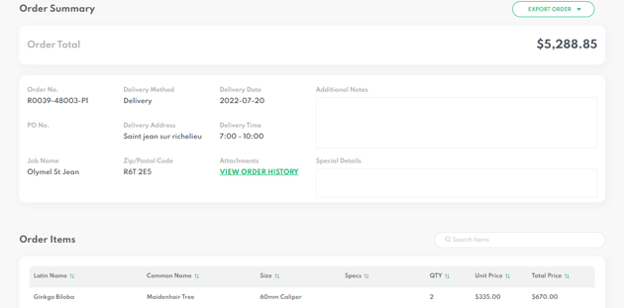 What if I need a reference to the order before it was phased?
In the "Order Summary" section of any selected phases, under "Attachments" select "view order history".
You'll then be able to download three different files: the first two files are the "Original Quote Request Information" and the "Returned Quote Information". The third file is the "Original Order Snapshot", where you can access the order information at the point right before it was phased.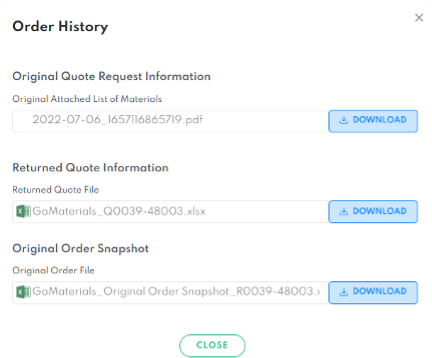 2. Real-Time Order Status
When orders are pending, you will now be able to view any live changes as they are being worked on. For instance, if you request to add items or we need to offer a substitution. This update will be available for both phased and non-phased orders.
N.B.: Pricing and availability in the "pending phase" are not final and are subject to change (with your approval!). You will be notified right away once it's go-time for your order.
Landscaping can be a tricky business because of all the unpredictable changes and low traceability. Unpredictable timelines with large crews also aggravate the situation. Our new features allow for greater flexibility and the ability to reference the pressing details of your order, which will minimize unnecessary back-and-forth. GoMaterials is always looking for more opportunities to minimize stress for landscapers and there's much more to come with improvements to the GoMaterials platform!
***
Need more information? You can get an overview of the platform and can find out how to track quotes and orders. If you don't have an account with us yet and want to see how GoMaterials can be a great sidekick for your business, you can create an account in under a minute.
Do you have any other questions about the GoMaterials platform or the new features that are a part of the Q2 update? Get in touch with your account representative today.